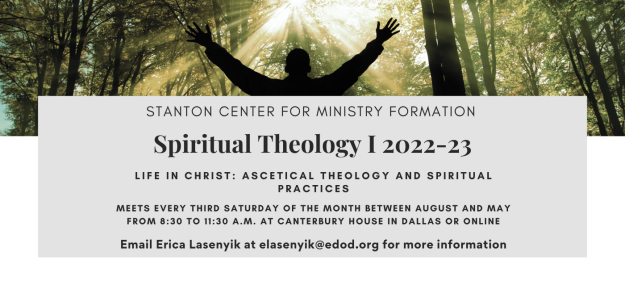 Stanton Center Offering: Spiritual Theology 1 with Bishop Michael Smith & Patricia Mackey Stone
Third Saturday, from 08/20/2022 to 05/20/2023, 12:00 AM
Deadline is August 1
Costs: Audit $300; Credit $400
Mail checks to Stanton Center at 5100 Ross Avenue, Dallas 75206

Greetings All,
Check out the syllabus for the Stanton Center class, Spiritual Theology 1, Life in Christ: Ascetical Theology and Spiritual Practices. This is a wonderful class to audit or take for credit if you are exploring one of the Stanton Center certificate programs. The class is taught by Bishop Michael Smith and Spiritual Director Pat Stone and will be offered in person and online. Those attending in person will meet at Canterbury House, 3308 Daniel Ave., Dallas 75205. Below is the syllabus:
An introduction to the basic elements of Christian spirituality, emphasizing the nature of the spirituality of Christian Scripture, and an analysis of Christian experience in light of Biblical revelation and Christian tradition. The course explores the spirituality of the Book of Common Prayer and a variety of spiritual practices and techniques by application to the student's pilgrimage.

This course will answer the following questions:

What happened to me at my Baptism? Where do I go from there?

What are the expectations in scripture for a transformed life?

What are the marks of a life lived "in Christ"?

What are the spiritual practices used in Christian tradition?

What spiritual practices are suited to my journey with Christ?

How do I share my experience with others?


Requirements for those taking for credit; some will audit:

1. Regular attendance in-person or via Zoom and participation in class discussions.

2. Bring Bible and appropriate text to class.

3. The construction and development of a Rule of Life. Due January.

4. Two reflection papers of between 2 and 3 pages on the assigned readings to demonstrate what interests you and speaks to your own life with God. Due December and April.

5. Journal reflections of 200-300 words monthly consisting of life lessons that can be shared in class. Due monthly.

6. A spiritual autobiography will be the final product for the class. Due last class.
For information contact Erica Lasenyik ( ) or 214.826.8310 Ext #6