Camp All Saints: All Fun and All Formation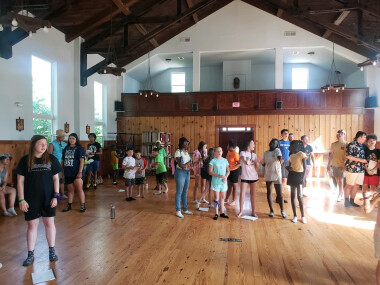 Youth formation is renewed again after Camp All Saints reinstated summer camp after a two-year Covid hiatus. Kids of all ages were back for one to three weeks of worship, prayer, and plenty of activities as they grew in Christ and explored the outdoors.
Campers are swimming, boating, fishing, hiking and making arts and crafts, said the Rev. Katie Gerber, director of the camp and diocesan youth programming. She added they love being without video games and cellphone and they learn about community, conflict resolution, and that there is nothing they can do to lose God's love.
"Watching God at work in and through our campers, our counselors, our spiritual leaders and the volunteers serving at camp is such a shot of spiritual adrenaline," Gerber said. "Everyone needs to experience the camp culture."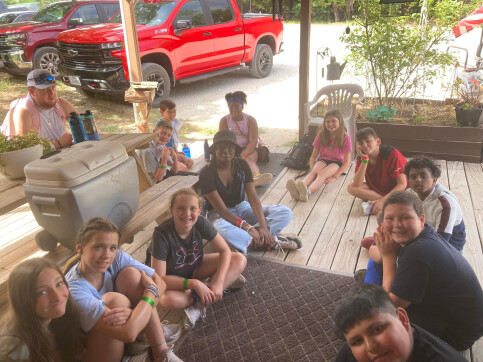 The Very Rev. Rob Price volunteered as a camp counselor this year said the youth seemed especially delightful this year to be outside in the woods or in the lake with others. "One of the things I love about camp is the pure joy that children have outdoors, and that was made poignantly keen by the fact that for most of us it was a joy deferred for such a long season by Covid," Price said. "Watching my ten year-old campers learn archery or how to start a fire with a "flint" and steel, or playing tetherball and splashing in the lake, it was almost like they were discovering that kind of joy-in-community for the first time all over again."
But it wasn't all about playing, the children deepened their faith through formation activities and being with other Christians. "And talk about joy: you should hear them sing! At camp, being excited about Jesus is normal, and in chapel they belt out "My Lighthouse" and other great songs with gusto," Price said. "I think that the loving, joyful Christian environment we're creating at camp is a sacred memory that will bear abundant fruit when they get home and sustain their spiritual lives in the years ahead."
Gerber said she was pleased about the turnout and the experience of the campers. "Our first summer camp in almost three years has been blessed beyond measure," she said.