Comfort Cooking From Clergy: Part 2
Recipes from grandma's kitchen, tractor magazines and other cozy places are ushering us through this season of quarantine as folks seek comfort in home-cooking. Here's the second installment of a smattering of clergy favorites as they ride out the weeks in front of their ovens, blenders, grills and ultimately their tables. Enjoy!
Cloudy With a Chance of Meatballs
Swedish Meatballs and Mashed Potatoes
The Rev. Emily Hylden, St. Augustine's, Dallas
Though for slightly different reasons than most years, we were in typical fashion, exhausted on Easter evening, and got take out. But on Easter Monday, I was overcome by the desire for something over-the-top homey. While I never ate a Swedish Meatball growing up, Fr. Jordan ate many hundreds (thousands?) and pairing a creamy gravy with mashed potatoes is the way to fix anything that ills a Hylden. To satisfy my longing for vegetables to cut the richness, I roast whatever's in the fridge -- it was brussels sprouts this time. I use The Pioneer Woman's all-purpose meatball recipe; cook the batch and freeze in 12-ball servings. Then I can just take out one bag and dump them in the sauce/gravy to reheat.
Recipe from the Food Network
Ingredients
5 pounds ground beef
1 1/2 cups plain breadcrumbs
1/2 cup milk
1/4 cup heavy cream
1/4 cup chopped fresh flat-leaf parsley
2 tablespoons grainy mustard
1 teaspoon salt
1 teaspoon freshly ground black pepper
1/2 teaspoon red pepper flakes
4 large eggs
2 tablespoons olive oil
To make the meatballs, combine the ground beef, breadcrumbs, milk, cream, parsley, mustard, salt, black pepper, red pepper flakes and eggs in a large mixing bowl. Mix together well with your hands. Scoop out 1-tablespoon portions and roll them into balls with your hands. Place the meatballs onto parchment-lined baking sheets and put the baking sheets in the freezer for 5 to 10 minutes for the meatballs to firm up.
To brown the meatballs, heat the olive oil in a heavy pot or large skillet over medium-high heat. Add the meatballs in batches, making sure not to overcrowd the pot. Cook, turning the meatballs to make sure they brown all over, 5 to 7 minutes per batch. Drain on paper towels.
Freezer instructions: Put the cooked meatballs in a single layer on baking sheets and put into the freezer. When frozen, divide them into freezer bags, 25 per bag, and return them to the freezer.
Mashed Potatoes: peel, dice, boil russets, plus 3-4 cloves garlic (whole but peeled). drain and rice. add 4 oz cream cheese and enough milk to make the consistency that feeds your soul. S&P as desired.
Comfort Food, Teen Approved
Lemon Shrimp Linguine
The Rev. Bob Johnston
I have been cooking Lemon Shrimp Linguine. I have been cooking it a good bit because my teenage boys really love it and it's easy and quick. Here is my favorite recipe for it.
Taste of Home recipe:
12 ounces uncooked linguine

2 tablespoons butter

2 tablespoons olive oil

3 garlic cloves, minced

1-1/2 pounds uncooked shrimp (31-40 per pound), peeled and deveined

1/4 teaspoon salt

1/4 teaspoon coarsely ground pepper

1 teaspoon grated lemon zest

1/4 cup lemon juice

1 small lemon, halved and sliced, optional

2 tablespoons minced fresh parsley
Cook linguine according to package directions. Drain and return to pot.
Meanwhile, in a large skillet, heat butter and oil over medium-high heat. Add garlic; cook and stir 15 seconds. Add shrimp, salt and pepper; cook and stir 2-3 minutes or until shrimp turn pink. Stir in lemon zest, lemon juice and, if desired, lemon slices.
Add to linguine. Sprinkle with parsley and toss to combine.
Peep-a-boo
Lemon Bunny Cupcakes on Coconut Grass
The Rev. Debra Vela
For me, I love to bake and am looking for ideas, particularly for my children, grandchildren and my children's ministry. This Easter I baked Lemon bunny cupcakes on coconut grass. I then placed the cupcakes in Easter baskets for my children, grandchildren and my children's ministry. I just wished I could send to the children in Ruora, Kenya, but another time!

Recipe:
Cupcake : Lemon sponge recipe or lemon box cake.
Frosting: Buttercream, 2 sticks of unsalted butter, 4 c. powder sugar, 2 tsp vanilla and 2 Tbsp of milk.
Coconut grass: 3 cups of coconut with green food coloring.
Bunny peeps as decoration.
Take Me Out to the Ballpark
Bratwurst
The Very Rev. Canon Rob Price
Let's face it: one of the greatest deprivations of the shelter-in-place lifestyle is the absence of baseball. Frankly, quarantine would be about 73% less onerous if one could spend entire afternoons watching languid day games. It's a game that takes torpor to the level of grand strategy. But if one can't watch America's pastime, one should at least eat as if one were watching it -- and that means brats. Not squirelly children, but bratwurst. Nothing says good times are coming back, along with temperatures in the 90's, like a brat with sauerkraut, mustard, and a cold Bud Light (I married a St. Louis girl). No matter what you dress it up with, the key to a good brat is preparation.
First, you need to pay the good money to buy Johnsonville. If you buy the store brand, you might as well buy Oscar Meyer hot dogs and eat them cold, as far as I'm concerned. So, take a large pot and pour one of your Buds in there. Then put in a stick of butter. Melt the butter in the beer and take a fork and stab the brat in four places on the top and the bottom to pierce the skin. Don't ask "why four?": it's baseball, so it's about superstition. Then put your pack of Johnsonvilles in there and boil them until they turn that greyish color all around -- no pink. Then, and only then, are you ready to grill them.
Have the grill super hot to start, so you can sear the hashmarks onto the brats, but turn it down to low heat after that or you'll need to call the fire department (I've actually come close). Be patient. Remember, this is baseball. Keep turning them until they get that beautiful dark golden brown, where the juice is sizzling out but you can still see the grillmarks. You're ready. The boys of summer will be in your heart, if not on your tv.
COVID-Days Friendly
Wacky Cake by Dianna Brannan
The Rev. Jennifer Smith
I needed a chocolate cake and I'd planned poorly. I hadn't left enough time to purchase a cake or ingredients to make a cake in honor of a well loved coworker who was leaving our department the next day. We had just started social distancing but hadn't hit the "everyone wear face masks" stage. So it was still appropriate to consider sharing food at work.
I'd completely forgotten about the Wacky Cake recipe Dianna Brannan, the parish administrator at St. Philip's, had given me years before. I found it with my other handwritten recipes, and it seemed simple enough with ingredients I already had on hand. It gets mixed by hand in the same bowl in which it is cooked. No waiting for the cake to completely cool before it gets icing. How's that for easy!
The Wacky Cake was super delicious. It was so easy and so well received I've made it multiple times over the last couple of months. Even my 11 year old is capable of making it.
Cakes of this type have an interesting history. They may have been created during food rationing in the Great Depression when milk and eggs were scarce (Wikipedia and Dianna Brannan). It's the perfect COVID cake when you're short on ingredients and maybe even short of time. I hope you enjoy this simple and delicious cake as much as my family and I have.
1 1/2 C flour
1 C sugar
3 T cocoa
1/2 tsp salt
1 t baking soda
Mix above ingredients together in an oven proof bowl.
Make 3 holes in the mix, one each for:
1 T vanilla
1 T vinegar
5 T melted shortening
Pour 1 C cold water over all, blend well. There will be lumps.
Bake at 300-335 degrees for 40-55 mins. Poke holes in cake with a fork. Pour icing over cake while warm.
Icing:
1 C sugar
4 T margarine or butter
1/4 C milk
1 1/2 T cocoa (optional)
Boil slowly for 1 minute or until slightly thickened. Then add 1 t vanilla.
Lord of the Kitchen
Gandalf Eggs
The Rev. Joel Hatfield
In my house, I am the breakfast chef. However, the method for this comfort dish is not mine, but something I found several years ago on YouTube by the actor Sir Ian McKellen. They are affectionately known as "Gandalf Eggs," and now we don't make scrambled eggs any other way. They are definitely a comfort food, and will make you look like a gourmet in the kitchen!
What you will need:
2-3 Eggs (depending on size)
1 tablespoon of half and half
1 tablespoon of butter
2 tablespoons of crumbled Feta or other cheese
Melba toast (optional)
Scrambled eggs are usually done in a French fashion, quickly, like an omelet, over a higher heat. In this recipe, they are cooked slowly, leaving you with a much richer product. The amounts can be scaled easily. Substitutions can be made to the ingredients, although substituting the eggs is not recommended. You can also add small amounts of ham, herbs, or scallions.
Melt the butter in a non-stick saucepan over medium heat. Don't be tempted to use a higher heat as the eggs will cook too quickly.
Wisk the eggs together thoroughly with the half and half. A bit of froth is good here.
Add the eggs to the pan by pouring them through a fine mesh strainer. This is optional, but makes the eggs smoother in the end.
Continuously stir the eggs using a silicon whisk. Don't walk away, otherwise the eggs will stick! This step usually takes 3-5 minutes, but your patience will be rewarded.
When the eggs begin to curdle, continue to stir until the bottom of the pan is exposed and the eggs are no longer runny. Then immediately remove from the heat, continue to stir. The eggs should not be dry, but the consistency of thick oatmeal.
Add salt and pepper to taste and fold in the Feta or other cheese.
Plate and enjoy!
They can be eaten on slices of Melba toast, or served with your favorite breakfast foods.
Comfort Food or Work of Art?
Meatballs and Pasta
The Rev. Perry Mullins
Ingredients
1 large onion, diced finely
Extra-virgin olive oil
Salt to taste
2 cloves garlic, minced finely
1-2 Pinches of crushed red pepper
1 pound ground beef
1/2 pound ground pork
2 large eggs
1 cup finely grated Parmigiano
(more for garnish)
A bunch of parsley leaves, finely chopped
(save a few for garnish)
The zest of 1 full large lemon
1 cup panko breadcrumbs, unseasoned
1/3 cup milk or cream
Marinara sauce—use your favorite, or make your own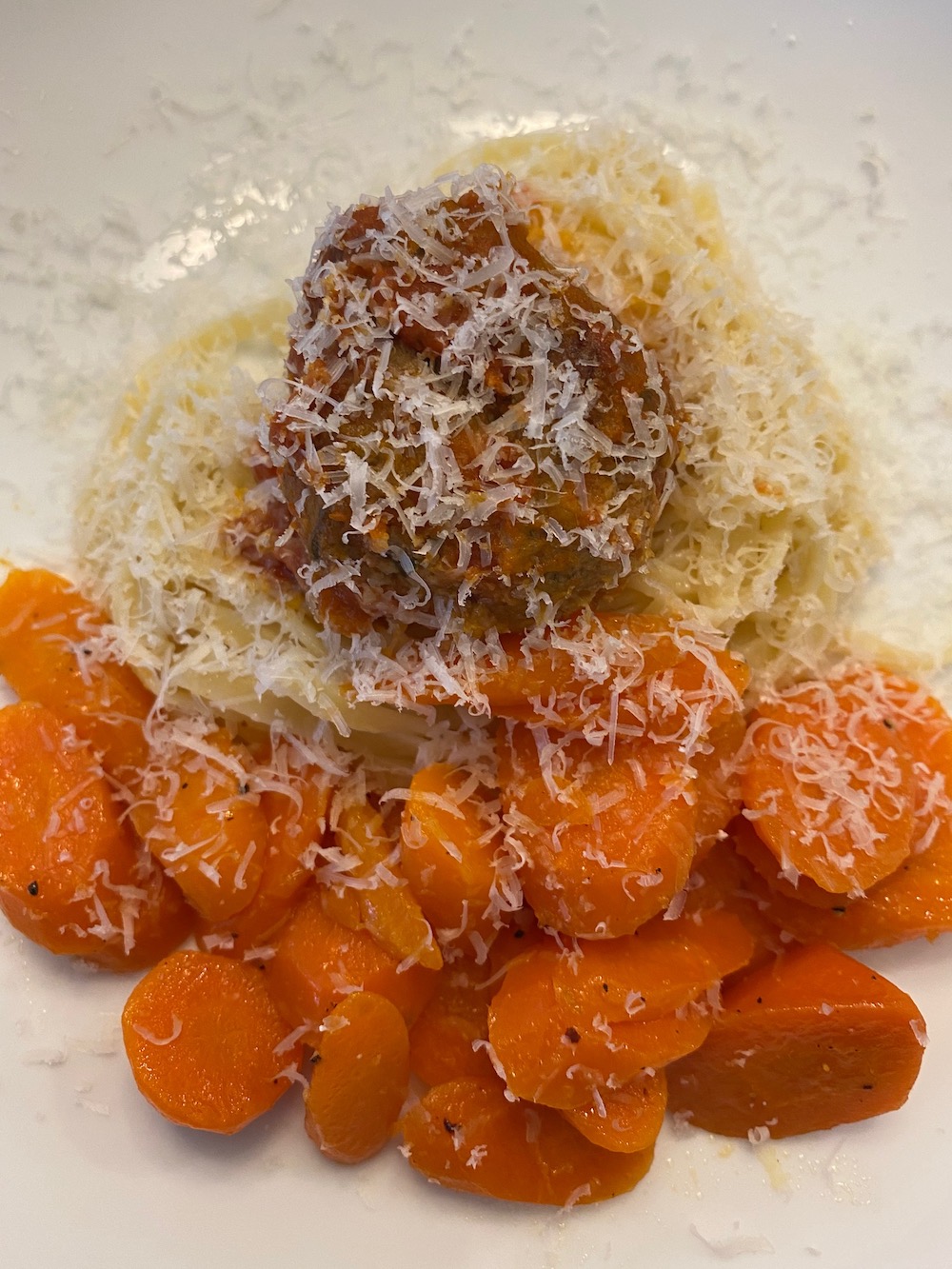 Instructions
Sauté diced onions in olive oil and a generous pinch of salt, about 5-7 minutes. Soft, but not caramelized, is what you're going for. Add the garlic and the crushed red pepper and sauté for another 1 to 2 minutes. Turn off heat and allow to cool.
Combine the meat, eggs, Parmigiano, parsley, bread crumbs, and lemon zest in a bowl and mix together carefully. Use your hands or a wooden spoon. Mix it well, but don't press it together or squish it too much. Try to keep the mixture light. Add the sautéed onions and some more salt and keep mixing carefully. Add the milk or cream and mix together once more.
Heat a cast iron skillet or sauté pan on medium-high heat and add some olive oil. Press a tiny bit of the meat into the pan and cook to test the seasoning. If it doesn't taste right, it probably needs salt. Form into about 4oz meatballs and set in the pan to brown. Turn them every 1-2 minutes until nicely browned, and then put the meatballs in an oven-safe dish and cover with Marinara sauce (I usually have some homemade marinara in the freezer, but you can always use a high-quality, store-bought jar in a pinch). Bake at 350 degrees for 30-45 minutes, until the meatballs are cooked through and the sauce is bubbly.
Serve on top of a nest of pasta and spoon some of the marinara on top (if you've never made homemade pasta before, there are lots of good, simple recipes out there, and they make all the difference). Cover the plate with Parmigiano, and sprinkle a bit of parsley around for garnish. Add a couple twists of freshly cracked pepper and enjoy.
I like to serve with honey roasted carrots and a nice glass of Cabernet.
Sixty Pounds and Dropping
Oatmeal Energy Bars
The Rev. Ethel Channon
I've been doing Noom since the last week of September. I'm down almost 60 pounds with mindful eating, just watching portion sizes, eating regular meals that I make for myself (breakfast and dinner anyway), and doing stuff like nonfat yogurt and fruit, or tuna and Good Thins for lunch.
I did make some sweet and salty oatmeal energy balls for a snack after my evening workout on the exercise bike. My Noom specialist recommended it. Here it is:
1 cup uncooked oats (I used old fashioned, but steel cut is fine)
1/4 cup honey
1/4 cup peanut butter (I used reduced fat)
1/4 cut ground pretzels
1 teaspoon vanilla (optional)
1/4 cup ground nuts (also optional, almonds recommended)
Mix all ingredients, refrigerate for 30 minutes, then form into balls with a teaspoonful.
Makes about a dozen.
They are about 105 calories apiece, so I only eat one at a time, but they do take the edge off carb cravings after a workout.
I also made a peanut butter-banana quesadilla for the same purpose as the energy balls.
1 whole wheat tortilla
1/4 cup peanut butter
1 small banana
Spread the peanut butter and sprinkle banana slices on the tortilla, then put it in a pan brushed with vegetable oil (I used canola Pam. Watch the heat. It can scorch quickly.) Flip the tortilla and make sure both sides are warmed. It's pretty good also. Folks can add stuff like chocolate or peanut butter chips, if they don't care about running up the calorie count. One tortilla makes two servings. Can't recall the calorie count, but I think around 100 per serving. It was pretty yummy, even the scorched part.