Food in the Time of Covid
This is our third year at San Francisco de Asis to offer summer meals to our community's children. With Covid rules, we began a grab-n-go breakfast/lunch program on April 27. We will continue with these meals through August. We are serving 250 meals daily. Our sponsor is Kids Bring Life. They have been supplying our great need in this Ferguson Rd., East Dallas Community. We provide meals for the community, Cambodian Community Church, City on a Hill Church with Pastor Chris Hughes, and now many homeless are coming daily for meals. We also partner with NTFB and our children receive monthly food boxes and snack packs each week. On Fridays, the women of "la cocina" prepare hot meals for 200 people which is an additional treat for our community. As the pics show, we are providing meals to refugee and immigrant children from Central America, Rwanda, Kenya, Nigeria and Sudan. The "Majano Siblings" Erlin, Sandra and Estevan are my great help and were written about in The Dallas Morning News.
Many of the children will not return to the fall semester but have been requesting an after school meals program of grab-n-go and participating in art activities outside with masks and possibly ballet and music classes too. Also, there is a need for ESL, so we might add English activities. This summer, I sent home with parents paints, crayons, and markers for activities with the theme Days of Creation. (I think that is why the parents are asking for more art activities.)
This is our sixth year to offer Saturday morning food distribution of fresh produce, bread, milk and eggs. We have continued this program with a drive through and continue to serve 100 families each Saturday.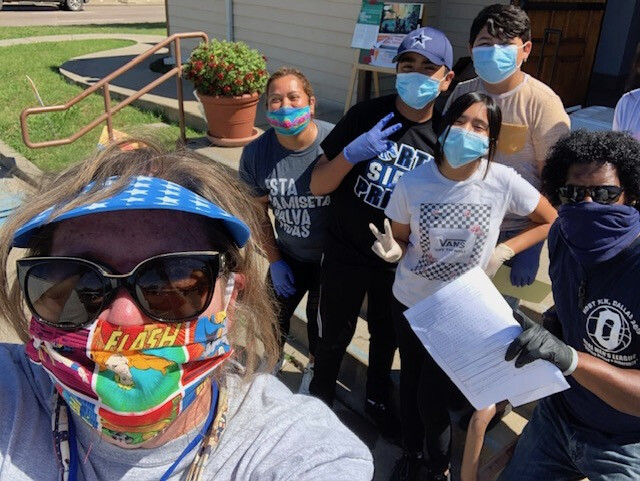 On a personal note, I am Executive Director of Children's Food Ministry, Inc. This ministry has sent food funding for a PreK school in Ruora Village, Kenya. With Covid, the Kenyan children also are remain at home and our team there has been delivering food items for the children. We have also sent funding to Canon Daudi Manasseh for Rift Valley Anglican Diocese in Tanzania and we have sent funding for medical supplies to Bishop Joseph Wandera. Our East African partnerships continue to grow and strengthen which has been a great blessing in this time of Covid.
As far as volunteers needed. Looking to the fall, I may really need support for handing out meals while we give the children outside activities to do. I think with Covid precautions, they will need more supervision. Also, I would love more volunteers to help us separate food and place in the vehicles on Saturday. This is a very laborious job and more help would be great.
Thank you so much for remembering us at San Francisco de Asis.
Faithfully,
Dn. Debra Vela