Mission Update: Helping Families
The Southern sector of Dallas continues to experience the ravages of COVID-19 in both illness and poverty. Pastor Chris Simmons of Cornerstone Baptist Church reports, "Some are able to return to work and unemployment checks are beginning to come in, yet the loss from the past months have left many in great need." Pastor Karen Belknap of Inspired Vision and Compassion Center reports that "We are providing 1300 – 1800 families with groceries daily. People who have never struggled in this way are coming to us hungry and unable to provide for their families."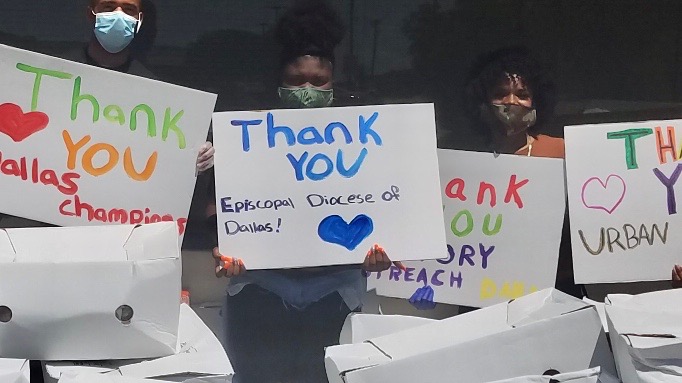 The Episcopal Diocese of Dallas in partnership with the Greater Dallas Coalition has continued our efforts in serving our brothers and sisters struggling with lack of food and basic necessities. This past week through the Farmers to Families government program, we were able to provide 1,068 (20 pound) boxes of fresh produce to True Lee Baptist Church, Victory Outreach and Metropolitan Dream Center. We were also able to provide over 600 meals to children at low income apartments.
We have needs for the following:
Strong volunteers who can help move boxes of food at Cornerstone Baptists Church on Thursdays from 1:00 – 4:00 p.m.
Volunteers to help organize food boxes and supplies for people in need at the Metropolitan Dream Center Tuesdays and Thursdays 10:00 a.m.- 4:00 p.m.
Donors for Industrial Size fans for Inspired Vision and Compassion Center. $1,000 per fan. It is very hot inside the center where the food is distributed.
Thank you Episcopal Diocese of Dallas for your ongoing support and help. You are changing lives in the name of Jesus. To get connected to this work, do not hesitate to contact Canon Carrie Headington at give directly to
www.greaterdallascoalition.net.
Or send check to: The Greater Dallas Coalition
P.O. Box 151221
Dallas, Texas 75215
In the MEMO put: COVID CARE
*The Greater Dallas Coalition is a 501 c 3 organization and all contributions are tax deductible.