Parishes Helping Schools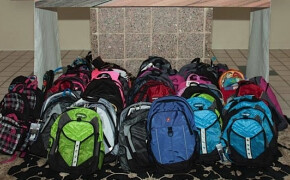 Then people brought little children to Jesus for him to place his hands on them and pray for them. But the disciples rebuked them. Jesus said, "Let the little children come to me, and do not hinder them, for the kingdom of heaven belongs to such as these." (Matthew 19:13-14)
Parishes in the Dallas diocese are doing awesome work in public schools and other schools with needs in their community. With a Texas childhood poverty rate of 26 percent, schools are in the need of help and churches in the diocese are doing just that---and making a difference.
Take for example, Church of the Apostles in Coppell provides school uniforms (with logos) to children at Riverchase Elementary. Along with both Ascension and Christ Church Dallas, Church of the Apostles coordinates "read-a-thons" throughout the year where volunteers give teachers a needed break and enjoy reading to a classroom of very excited and appreciative children.
Nearly all of the churches in the diocese having a school partnership provide backpacks and/or other school supplies for many children in need. Good Samaritan in Dallas collects needed backpacks with supplies for their partner school, Sanger Elementary.
Saint David of Wales in Denton works with the Denton Independent School District to provide tutoring to low performing children in their community through a program called Mentor Denton. St. David's is just one of the many churches in the diocese providing volunteers to help with tutoring and mentoring of children attending schools in their neighborhood.
Food insecurity is prevalent in both adults and children in Texas (one in four children) and many parishes are reaching out to ensure that children on free and reduce meals at school continue to have food during the weekend. St. Andrews and St. Peters both in McKinney work with school district to provide backpacks with food for children to have for the weekend. Other parishes are providing food to families in their community through pantries and other local feeding programs.
Parishes in the diocese engaged in a church/school partnership are invited to a brunch scheduled from 11 a.m. to 12:30 p.m., Oct. 23 at Church of the Ascension. RSVP by October 16 to Dabney Dwyer or 214 500-7205.