Update on Honduras Project
I wanted to share the great news that, at last, the people in need in Honduras received the goods that congregations from St. Anne's, Christ Church, St. Dunstan's, St. Matthew's Cathedral, and Good Shepherd in Cedar Hill donated donated in December.
Yes, it took a very long time to work through the restrictions that the government of Honduras has in place…but with the hard work of Bishop Lloyd Allen and his staff, the container was finally released to them.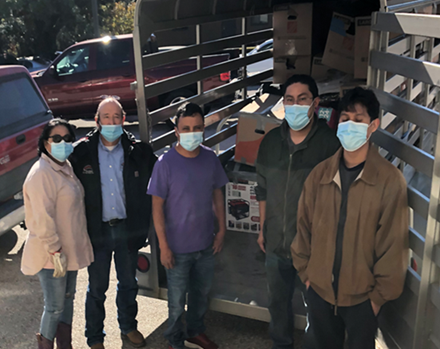 Here is part of Bishop Allen's Feb 6, message to our diocese: "The container is finally here, and we were hard at work discharging and moving the boxes and other items to the distribution center. I am currently asking for volunteers to come and help us pack and distribute the item per family. All medical donations will be managed through our two operational clinics one located on the outskirts/periphery of Tegucigalpa and the other in La Ceiba Holy Trinity Episcopal Church. Face Masks and other Biosecurity material will be handled by my administrative assistance (Ms. Nancy Nunez) Food clothing and health kits will be managed by the distribution Center volunteers. Therefore, on behalf of the Episcopal Diocese of Honduras, I wish to express my gratitude and appreciation to the Episcopal Diocese of Dallas, … and all congregation who came together packing to pack and ship this container to us. It will make a big difference in the life of many Hondurans."
Many, many thanks to all for the contributions and love shared with the people of Honduras, from all of us here at St Luke's who received and shipped the donations.
God's Peace!
Deacon Rosemary