Christian Servanthood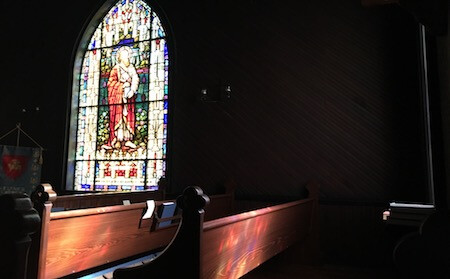 "It's about the skills and the practices of spiritual life that prepares each one of us to be open to the
other…to believe and trust that the hospitality of the Christian faith is to look for the Christ in the other person, and as we approach them to serve them and in humility provide ministry to them. Our prayer is that the stranger will receive us and look for the Christ in us." -- Rev. Dr. Helen Appelberg, founder of COH
I find deep and abiding nourishment in Christian community and pastoral ministry. Both sustain me and allow me to see life as a whole. I'm the product of parents who spent 21 years serving as Presbyterian missionaries in Iran. I was born and lived there for the first 13 years of my life. My parents' ministry continued in the US after we left Iran in 1979. Now in their 80's, my mom and dad's faith continues to inspire my ministry in ways I'm just now starting to grasp.
My early years offered me the foundation for Christian servanthood but what I lacked was formal training and a toolkit for living out my calling. I started on this road of discovery four years ago by completing a year of hospital chaplaincy (Clinical Pastoral Education/CPE) at Children's Medical Center in Dallas. In addition to time in the classroom I logged 300+ of "on call" hours serving in pediatric ICU and trauma. Needless to say hospital chaplaincy equipped me with new pastoral skills but left me with tough "why God" questions.
In April, 2013 I was asked to attend a Community of Hope (COHI) conference at Camp Allen. At the time I was new to Good Shepherd's staff and went to Camp Allen to glean as much as I could to determine whether it would be a complement to our pastoral offerings. I was also looking for more tools for my pastoral toolkit and was open to what COHI had to offer. The experience transformed my Christian walk.
The conference attendees were priests, deacons, women's ministry, welcome and outreach leaders and hospital chaplains who viewed their work as pastoral. And their definition of pastoral included all ministries where people were being welcomed as Christ, served and taught.
I learned that 2,000 years ago a monastic named Benedict had a profound grasp of human nature and through his Rule he set clear expectations and guidance about living in Christian community. I also discovered that the practical teachings on pastoral themes are fundamental parts of the COH training but fist and foremost the COH experience is about a spiritual journey with Benedict.
Perhaps the most beneficial learning for me was that what happens after the training is at the heart of COH. The monthly Circle of Care gatherings include ongoing spiritual formation and the communion its fellowship offers. They are also times to reflect on spiritual and emotional responses to pastoral encounters. Ironically, in the last year personal circumstances have brought me to my knees and asking "why God" yet I've been sustained by this Community and its way of life.
Good Shepherd launched it's first training in 2013 and we just completed our fourth class. Over 30 have been trained in COH and 22 have been commissioned as lay chaplains. I'm forever grateful for my COHI experience and believe there are so many ways to apply it to ALL ministry that we do. COH founder Helen Appelberg's quote at the beginning of my testimonial perfectly embodies what it's about. I'm sold, are you?