Evensong for Queen Elizabeth II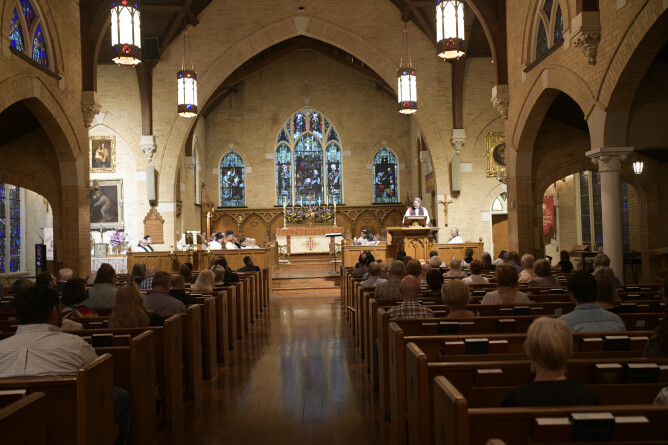 A beautiful evensong service in thanks to Queen Elizabeth II brought more than 100 people to St. Matthew's Cathedral as a humble tribute for the Queen's life of serving others.
Clergy from around the diocese dressed in their vestments processed into the cathedral for the service, and the Rt. Rev. Michael Smith gave the homily. He said that while Episcopalians have ties to the English Church they do not recognize the Queen as the head of the church nor offer prayers for her in liturgy. "And yet, how can we not mourn the passing of Elizabeth II as one of our own? How can we not acknowledge the integrity and greatness of this woman who devoted her life to the people of Britain, who embraced the role of a world citizen, and who lived her life, as Dietrich Bonhoeffer put it, "for others" – and who did not hesitate to confess that she drew her guidance and direction from her faith in Jesus Christ," Smith said.
The choir, led by Choir Director Keith Franks, sang some of the Queen's favorites including "Praise my Soul, the King of Heaven," and "the Lord my God my Shepherd is." Dr. Robert August, served as Guest Organist.
The Very Rev. Rob Price, dean of the Cathedral, noted that a few days after the 9/11 attacks, the queen broke protocol by having the "Star-Spangled Banner" played at the changing of the guard at Buckingham Palace in order to comfort the many Americans stranded in London. "Tonight, we repay the favor," he said, ending the service with the English National Anthem.
During his homily, Smith noted the Queen came from the Greatest Generation and had a keen sense of duty, honor and integrity. "I am mindful of the advice here this evening in the fourth chapter of Philippians: "'Beloved, whatever is true, whatever is honorable, whatever is just, whatever is pure, whatever is pleasing, whatever is commendable, if there is any excellence and if there is anything worthy of praise, think about these things' (Philippians 4:9). And there is plenty in all the above in the life of Queen Elizabeth about which to think."
Attendees signed a book of condolences to be given to the British Consulate and eventually to the royal family, Price said. "We remember Queen Elizabeth primarily in thanksgiving for her life of service," Price said. She gave everything she had for the good of her community.
Smith concluded the sermon with these words: "We give thanks today for the life and example of Queen Elizabeth II, who in so many ways demonstrated her choice for life over death, displayed her preference for blessings over curses. May we who honor her memory do the same in our much more modest spheres of influence."
Check out the extensive coverage from the Dallas Morning News at https://www.dallasnews.com/news/2022/09/14/dallas-episcopals-give-thanks-for-queen-elizabeth-ii-with-song/