Jerry Hill: One of the Finest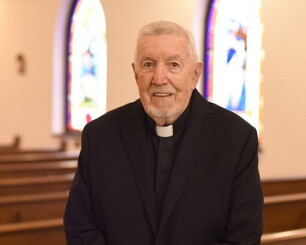 Unwavering love of the human condition is the hallmark of the Rev. Canon Dr. Jerry Hill's lifetime of ministry. Hill died recently at age 84 leaving behind a legacy of pastoral care and love to everyone he met. Among his many accomplishments, he is known for planting a successful church, Good Shepherd in Cedar Hill; breathing life into a struggling church, St. Paul's in Waxahachie; founding ministries that addressed the needs of those in the margins such as the Stewpot, Austin Street Shelter, and the Genesis Women's Shelter to just name a few. He also developed programs for rural ministries in the Dallas diocese.
Hill received numerous awards and accolades for his ministry with the homeless and mentally ill in Texas. And he had a strong academic background, earning a B.S. from Southern Arkansas University, an MDiv. from Seabury-Western Theological Seminary and a DMin. from McCormick Theological Seminary. It was during this formal education, Hill felt the call to serve the people who needed the most help.
In a paper Hill wrote about the establishment of diocesan Urban Ministries, he had this to say about his focus of study, "After graduating in 1972 from Seabury-Western Theological Seminary in Evanston, Illinois, I remained in the Diocese of Chicago as part of the staff of Cathedral Shelter serving the needs of Chicago's skid-row population. I had served on the staff of the shelter during my seminary years fulfilling my field education requirement. After graduation I chose to remain and begin graduate work in the Doctor of Ministry Program in Pastoral Care at McCormick Theological Seminary (Presbyterian). In doing so, I was able to gain valuable study and supervision in psychotherapy, mental health and addiction, my chosen fields of interest."
Adding to Hill's numerous roles in leadership, he also served on the Texas Education Agency, Texas Commission on Alcohol and Drug Abuse and the National Commission on Philanthropy and Civic Renewal. He was also a guest speaker at the 1996 National Republican Presidential Convention. In recent years the Dallas diocese also recognized Hill as a Canon in the Order of Garrett.
In his paper, Hill documents the highs and lows of ministering to the poor. In one entry he speaks lovingly about a homeless person who would volunteer to clean the Stewpot building after everyone ate. This was at a time when the ministry fed 200 to 400 people a day. "John Bell, … known by us as "Big John" due to his size, always stayed around and helped us clean up after the crowd left. He could not read or write, but he was a great help! We were able to hire him full-time. Since his salary was not large enough to afford him rent for an apartment, I was able to offer him living quarters in an unused office space at St. Phillip's Community Center. This also meant that he could be at St. Phillip's at night and on weekends as an unofficial security guard when staff was not present, making the payment of living space a "win-win" for both the Stewpot and Urban Ministries. This worked well and Big John was the only "full-time" employee of the Stewpot until he died of a heart attack in his bed at St. Phillip's in the late 1980s."
He also wrote about the different ecumenical partnerships he developed to get ministries rolling, and speaks frankly about political challenges, good and bad. At one point he thought he had Ross Perot on the hook for a donation only to discover it went to the Salvation Army after they gave the former presidential candidate a board seat.
Hill said his determination to create an overnight shelter developed after police came to him over two different incidents where homeless men had slept in trash dumpsters and were killed by the collection truck's trash compactor. He also detailed social challenges in the 1980s when downtown business owners blamed overnight shelters and soup kitchens for dwindling clientele. Hill wrote, "to a lesser degree, they were right, but the primary cause was the flood of "white-flight" heading out of the inner-city as a result of growing drug problems, and the violence associated with the "new" inner-city poor. In other words, they believed if we were not present, the poor of the downtown would not continue to grow. This fight began to grow and threatened the ministry in the years ahead. It became more critical as we recognized the need to open additional ministries to address the lodging of the increasing homeless population filling the downtown area, as well as the added need to serve the growing number of victims of family violence that were using the services primarily designed for the skid-row population."
Despite political challenges, helping the people most in need was Hill's passion, the Rev. Canon Jerry Morris said. "He talked to the most poor, destitute, dirty, ugly and smelly of people," Morriss said. "When he looked in the face of every one of them, he could see Christ." The diocesan rural ministries are also credited to Hill who started a program to ordain clergy for rural ministry, Morriss said. This was a big help in sustaining small, rural churches that had a difficult time attracting clergy.
During the early days of St. Paul, Rebecca Wellborn remembered Hill fondly, saying he was sent to the church to grow it or close it. It grew so much they had to get a bigger church. "He grew it by loving people," Wellborn said. "He preached a good sermon, taught a good class and just loved people. Just like Jesus who invited Simon into the boat to go out, he invited people in to become involved." Eventually Hill "retired" and worked as a supply priest throughout the diocese. After several years, St. Paul's was offering three services and the Rev. Terry Reisner asked Hill to celebrate in the early service. Hill agreed only if he didn't have to attend any meetings and the church obliged. "He touched so many lives - street people, congregations, all bringing people to Christ. He really cared that people would know Christ," Wellborn said.
Michell offered a summation of Hill's reputation in the diocese and beyond. "He was absolutely one of the finest men I've ever known." At the end of his paper, Hill said in closing, "With all the hard work, with the ups and downs of both failures and successes, many, many lives have been saved, helped and in many cases rehabilitated. "…I give thanks to my Lord and Savior for the opportunity to serve "the least of these."