We Should Show Refugees Hospitality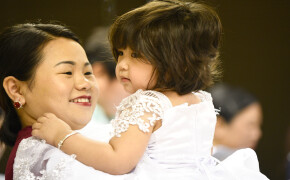 On Friday, January 10, Texas Governor Greg Abbott sent a letter to the U.S. Secretary of State, informing him that refugees will not be allowed to resettle in Texas for fiscal year 2020. This devastating news came just a matter of weeks after Dallas became the first city in Texas to earn the status of Certified Welcoming City for its inclusiveness and integration of immigrants and refugees. Mayors of major metropolitan cities across Texas were quick to respond, acknowledging the tremendous richness, gifts, talents and benefits refugees bring to their communities. They join a growing chorus of voices across the state and our nation appealing for those values that for decades established America as a moral leader on the world stage, especially in the area of human rights.
As disappointing as this news is to those we serve, those who serve and support Gateway of Grace Ministries, and me personally, there is a much deeper concern that is raised by this decision. What will be the Christian response? Let me state what should be but is not always so obvious about Christians and their responses to secular events. As Christians, we are mandated by God through the Scriptures to discern the affairs of the world differently than non-Christians. That discernment for the Christian does not come from network news analysts, powerful political points scored in a debate, political party affiliation, personal persuasions or family creed. Discernment, or deciphering God's will, first requires us to submit completely to God. God does not offer a cafeteria plan for our sanctification. He wants to sanctify every aspect of the Christian's life so that he or she is clear-eyed and unhindered for Kingdom work. That means every Believer should have a Biblical view and affinity to God's heart, and that includes for immigrants and refugees – the strangers among us and those elsewhere who call on us for help.
Through the prophet Isaiah, God established that his thoughts and ways don't align with mere human thoughts and ways (Isaiah 55:8). As St. Paul, in Romans, transitions from explaining our eternal inheritance, he moves into helping us connect those spiritual realities with practical living for Kingdom purposes. Do not be conformed to this world, but be transformed by the renewal of your mind, that by testing you may discern what is the will of God, what is good and acceptable and perfect.(Romans 12:2) God wants us to be infused into his will through good, acceptable and mature service.
Another area of concern that comes from Gov. Abbott's decision is how will non-Christians distinguish what is real from all that claims Christianity. This decision comes at a time when a young generation of adults questions the relevancy of the Church and even the very authenticity of our faith, when they see loveless and contemptable acts validated by those claiming the Christian faith. Many are asking, "What is the mark of authentic Christianity?" Jesus established it two thousand years ago. "By this all people will know that you are my disciples, if you have love for one another."(John 13:35)The decision of Gov. Abbot will be devastating for persecuted Christian families who live in Texas. Hundreds who are separated from their spouses and children and waiting for years to be reunited, now have no hope of a reunion, at least not in Texas. This decision prevents the Church from extending the support that is so desperately needed and the love that is our spiritual birthmark. It is this same love that brings peace and settles the anxious hearts of refugees.
These persecuted Christians, many of them members of Grace Community, lost everything when they fled their governments. Having suffered abuses of various kinds and even torture in their homeland, they lived as second-class citizens in a secondary country waiting to be given a new country to call home so that they could worship Christ, freely. When we refuse to welcome, support and love our persecuted Christian brothers and sisters, consider the message we send about their value to the Church. We not only fail to demonstrate the Church as One Body but embolden the persecutors of our brothers and sisters when they witness silence and apathy from the rest of the Church.
Another consequence of this decision is hinderances created for evangelism. It is difficult to comprehend the battles that wage in a person's mind who knows God is calling them, but also contends with realities of isolation from the rest of the Church and its lack of support as they face the worse kinds of persecution. As word spreads that they are not welcomed, these new Believers with very little in the manner of grounded theology will not be maturely equipped to communicate to others how to persevere in persecution. Meanwhile, the voices of their persecutors will grow louder and more convincing. Since the goals of persecution are to discourage and destroy the Church, the Christian response should be to encourage and build up the same. We have numerous historical markers of what happens to Church movements that were not supported.
Missiologists across denominations have been following the movement of peoples across the world and they agree that God is bringing the nations to us so that they can hear the Gospel, experience the love of God in practical ways, be healed from cultural and religious wounds, and place their faith in Jesus Christ. Let's face a few facts, it is extremely dangerous, expensive, not nearly as effective and frankly unappealing to send missionaries to Iran, Afghanistan, Syria and other places where oppressive regimes reign. Yet, God is working in those places, in the midst of war, injustices and famine to move people to where they can hear the Gospel and receive his healing. Consider our unique evangelistic context. There is no other time in human history in which the world has experienced such mass migration of people. As you read this, 70.8 million are forcibly displaced. Ironically at such a crucial time in Church history, Texas stands as the buckle of the Bible Belt, the mecca of mega churches and a haven of southern hospitality. Yet, the governor's recent decision against refugees, and among them persecuted Christians, will deprive the Church of fulfilling a vital part of its mission – to be a neighbor and to reach nations.
One example of God's healing work here in Texas is in the life of a man from Iran who came to Grace Community through an invitation. He was an atheist who was tortured in Iran as a political prisoner and left to die. His teeth were shattered and the soles of his feet even worse. When we received him, he was suffering from severe anxiety and unable to sit in our worship services for more than five minutes before needing to excuse himself then return. As we got to know more about his story, we learned that he lived in a leaky garage at a car dealership. We helped him find an apartment. A compassionate dentist and friend of Gateway of Grace reconstructed his teeth at no charge. Another partner business donated a new mattress and delivered it to him. In complete disbelief, he called to ask me to take back the mattress. After a long back and forth over the matter, I asked why he wanted me to take back the mattress. He responded, "Because I'm not worthy!" What the Iranian government did to him not only destroyed his body, but also crushed his soul. We continue to love him and provide a healing community. This former atheist now believes God exist! He attends church, participates in mission work, tithes and serves Grace Community. He sees the church as his family. Yes, there is still a long and hard journey ahead, but he knows he is loved unconditionally, laughs a lot more and has a great smile.
Another example of God's healing work among refugees in Texas is a woman from Afghanistan. When she came to Gateway of Grace's ESL program, she had very little education from her country, but that did not stop God's plan for her life. Within the two years she has been one of our ESL students, she has progressed amazingly in English proficiency through the extra help of a faithful volunteer. This beautiful Afghan woman is now working on her GED. She is also working with Gateway of Grace's Certified Life Coach who is helping her develop strategies for improving not only her life, but those of her family.
With the privilege of working among refugees in 2019, Gateway of Grace celebrated 25 baptisms of former Muslims in Dallas and Iran, 2 college graduations, 6 new citizenships, provided a Christian wedding ceremony for a former Muslim couple, saw two businesses started by refugees, miraculous physical healings, higher-salary jobs and career advancements, and refugee families serving other refugees and migrants.
So, how should Christians respond? What is our witness to non-Christians and particularly leaders of countries who are opposed to Christianity? Who are we? We should pray continuously that Gov. Greg Abbott will earnestly seek God's will, gain a clarity of his office to do good, and obey the voice of God. We should also examine ourselves against God's unique purposes for us in this crisis and respond with a passionate urgency. Meanwhile, I am still hopeful. I am hopeful because of God's unrelenting love for those who are seeking him, those who are serving his Kingdom purposes and because of his un-revocable plans for his Church.
For I know the plans I have for you," declares the LORD, "plans to prosper you and not to harm you, plans to give you hope and a future.(Jer. 29:11)
The Rev. Canon Dr. Samira Page
Vicar- Grace Community Persian Episcopal Church
Founder- Gateway of Grace Ministries