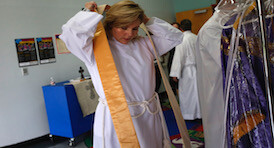 It's simple. Just walk through the doors that are opened for you. There are only three doors.
I first learned about the three spaces for evangelism from Deacon John Sundara. He advised me on how we can reach the large and growing Indian population in Plano. I had questions about the people. What do they fear, love, and want? And most importantly, what do they need and how can Resurrection Episcopal Church meet those needs? But reaching anyone with Good News is about opening doors.
In forming relationships there are three spaces that become more intimate as you walk through each door. In Space 1, we have passing surface conversations, like the ones I have with a familiar bank teller or someone in the checkout line. In Space 2 there is an opportunity to build relationship and the conversations can be longer. If I offer a class at a Recreation Center and see the same families every week, I become a familiar person with an opportunity for us to share what's happening in life. We can talk about work, family, or even share prayer requests. In Space 3 we share at heart level, which is really where anyone would talk about their relationship with God. When I've walked through the first two doors and then someone asks me to coffee or we sit down for a meal together, then we're at the level of relationship where we can really form a lasting connection.
Church planters create opportunities for connection. Resurrection Plano recently hosted a Family Fun day at a local park (Space 1). We've scheduled recurring "Pray-Ground" experiences for families through a local mom's organization (Space 2). And I let it be known to all our groups that I'm always available to meet (Space 3). But it isn't just for the priest to do. Any member should see and walk through the three doors.
It's Simple. Now you try it! What three spaces can you create to meet new people and open doors?