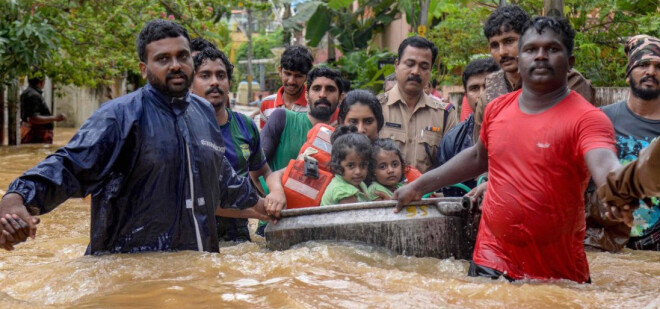 The southern states of India have been hit by floods due to the severe monsoon season that has brought more than 90 inches of rain to places like the state of Kerala. The intensity and magnitude of this monsoon season have not been seen in over 100 years.
The central government of India has declared the recent flooding as a calamity of severe nature. Military personnel are engaged in rescue operations. People that have been stranded on rooftops are being airlifted to safety with the help of helicopters. Tragically, the number of deaths has already surpassed 300 and thousands of people have been displaced from their homes.
Due to the flooding of homes and the loss of electricity, a vast number of people in southern India are without their medicines and do not have access to food and clean drinking water. Many roads and bridges have been damaged, and this is preventing the severely injured from reaching local hospitals.
Prime Minister Narendra Modi saluted the people of southern India for their "fighting spirit" and assured the people that the nation stands firmly with them during this difficult time. The Episcopal Diocese of Dallas extends our prayers to all those affected by this disaster.