A Statue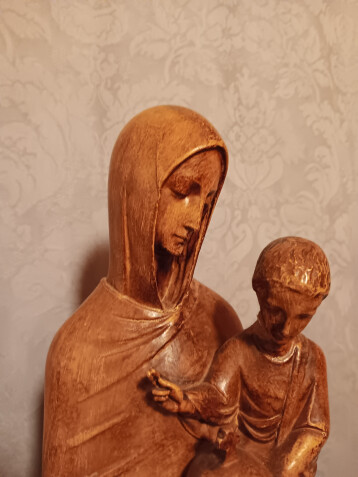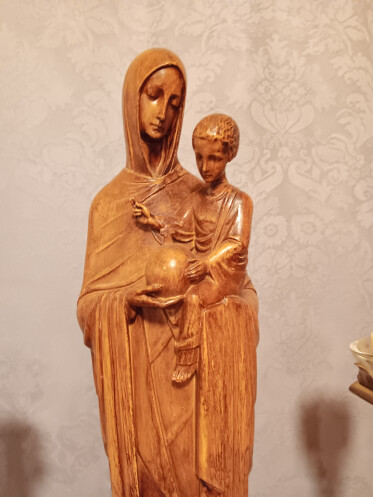 Her nose is long and narrow, coming to a point above her relatively small yet firm chin. Her eyes are closed, though if they were open she would be seeing her son. He has a long neck that holds a preternaturally mature head, a head that grows larger as it moves upward and back. His hair lies close to his head, ageless.
Her right hand supports a sphere with a cross on the top of it. His left hand lightly touches it; his right hand is a bit higher, fingers arranged to bless and yet not exactly aimed to bless anything in particular. His face is stressless and calm as he gazes on the sphere, eyes open.
Both their lips are closed, neutral. He is smaller than she but he seems no younger. What does he see in that perfectly round, cross-topped sphere? Is he in time and she, with closed eyes, outside it? Or is she in our time which he has somehow entered—perhaps even as we gaze upon them we see him approaching, coming from eternity to be with us?
---
To pause and look, to wonder, to ask, to pray: this is a good thing to do in Lent. You can find this statue of Mary and the Child in Holy Trinity Church in Bonham, Texas. It is a small treasure. The figures seemed to me slightly alien, slighty E.T.-ish even, and yet in that dark wood very traditional and thoroughly human. Art can stop us that way: it can show us the ordinary as something extra-ordinary. What can be more ordinary than a statue of Mary and Jesus in a little church? And yet here it was, a treasure, a gift for anyone who would stop to pray.
Fourteen of us were there that Sunday. But with us was the whole world.
---
Out & About. The next Good Books & Good Talk seminar will be Sunday, March 19, on James Matthew Wilson's The Strangeness of the Good. I'd like for participants to select one poem that they would particularly like for us to discuss, for whatever reason. The seminar meets at Incarnation in Dallas at 5 o'clock and runs to 6:30pm.