Are You Envious Because I'm Generous?
For Sunday, 20 September 2020: Matthew 20:1-16
[Jesus said,] "For the kingdom of heaven is like a landowner who went out early in the morning to hire laborers for his vineyard. 2 After agreeing with the laborers for the usual daily wage, he sent them into his vineyard. 3 When he went out about nine o'clock, he saw others standing idle in the marketplace; 4 and he said to them, 'You also go into the vineyard, and I will pay you whatever is right.' So they went. 5 When he went out again about noon and about three o'clock, he did the same. 6 And about five o'clock he went out and found others standing around; and he said to them, 'Why are you standing here idle all day?' 7 They said to him, 'Because no one has hired us.' He said to them, 'You also go into the vineyard.' 8 When evening came, the owner of the vineyard said to his manager, 'Call the laborers and give them their pay, beginning with the last and then going to the first.' 9 When those hired about five o'clock came, each of them received the usual daily wage. 10 Now when the first came, they thought they would receive more; but each of them also received the usual daily wage. 11 And when they received it, they grumbled against the landowner, 12 saying, 'These last worked only one hour, and you have made them equal to us who have borne the burden of the day and the scorching heat.' 13 But he replied to one of them, 'Friend, I am doing you no wrong; did you not agree with me for the usual daily wage? 14 Take what belongs to you and go; I choose to give to this last the same as I give to you. 15 Am I not allowed to do what I choose with what belongs to me? Or are you envious because I am generous?' 16 So the last will be first, and the first will be last.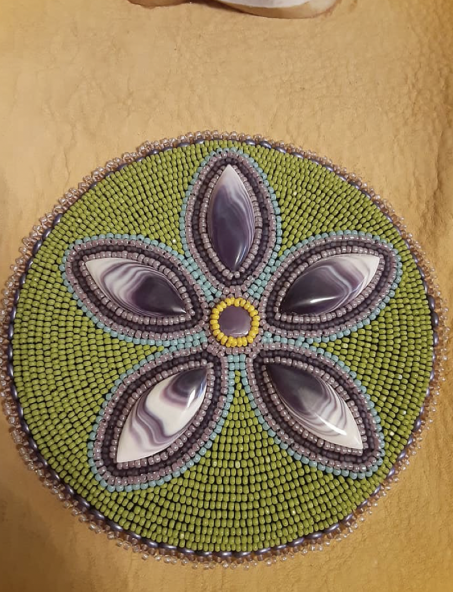 This beadwork was crafted by Jennifer Jordan, an enrollee of the Oneida Nation of Wisconsin. More of her work can be seen at www.facebook.com/jennibeads.
"Are you envious because I am generous?" I do not want to admit it, but I guess the answer is yes. After all, that story is so unfair. What justice is there in paying farm laborers who work for one hour the same as those who work for twelve hours? It simply does not make any sense from a human perspective. I suppose, however, Jesus told this story especially for folk like me, those who identify with the laborers who work from dawn to dusk, those who need help in remembering that grace is "God's favor towards us, unearned and undeserved" (BCP 858), and that none of us gets what we actually deserve—we get better. Jesus is consistent about this. In another place he reminds his disciples that "when you have done all that is commanded you, say, 'We are unworthy servants; we have only done what was our duty'" (Luke 17:10).
St. Benedict, in his six century Rulefor monasteries, also dealt with the question of whether fair treatment of members of his monastic community was synonymous with equal treatment when he wrote: "We do not imply that there should be favoritism—God forbid—but rather consideration for weaknesses. Whoever needs less should thank God and not be distressed, but whoever needs more should feel humble because of his weakness, not self-important because of the kindness shown him. In this way all the members will be at peace" (RB 34.1-5).
A deeper dive into this text, however, reveals even more treasure. We encounter that familiar biblical word denariusor "daily wage." My understanding is that a denarius was the equivalent of enough money to provide an agricultural worker and family with the necessities of life. If that is the case, the landowner in Jesus' story is providing each worker, regardless of whether they worked twelve hours or nine or six or three or only one, with what they needed for their families' provisions. "Give us each day our daily bread" (Luke 11:3), we pray in the Lord's Prayer. Is not this what God is doing through the landowner in Jesus' story, providing them with their daily necessities?
God often provides what we need through the generosity of others. Generosity is an important value of many tribal peoples. The Lakota word for it is wacantognakawhich means to show concern not only for one's people but for all of creation by contributing freely for the well-being of all. It includes sharing not only food and possessions but also time and attentiveness, without expecting anything in return! Charles Eastman Ohiyesa of the Santee Dakota Nation, born in 1858, became a physician, author, reformer, and advocate for his people. He is quoted as saying: "Children must early learn the beauty of generosity. They are taught to give what they prize most, that they may taste the happiness of giving."
Generosity is not only a fruit of the Holy Spirit (Galatians 5:22), it is a virtue sorely needed in our world today amidst a global pandemic and divisive political season. It is a good time to repent of our envy of God's generosity and to give ourselves over to a spirit of big-heartedness, not expecting anything in return. Such a move just might give us a taste of the happiness of giving.