Woman of Tepeyac
For Sunday, 20 December 2020: Luke 1:26-38
26 In the sixth month the angel Gabriel was sent by God to a town in Galilee called Nazareth, 27 to a virgin engaged to a man whose name was Joseph, of the house of David. The virgin's name was Mary. 28 And he came to her and said, "Greetings, favored one! The Lord is with you." 29 But she was much perplexed by his words and pondered what sort of greeting this might be. 30 The angel said to her, "Do not be afraid, Mary, for you have found favor with God. 31 And now, you will conceive in your womb and bear a son, and you will name him Jesus. 32 He will be great, and will be called the Son of the Most High, and the Lord God will give to him the throne of his ancestor David. 33 He will reign over the house of Jacob forever, and of his kingdom there will be no end." 34 Mary said to the angel, "How can this be, since I am a virgin?" 35 The angel said to her, "The Holy Spirit will come upon you, and the power of the Most High will overshadow you; therefore the child to be born will be holy; he will be called Son of God. 36 And now, your relative Elizabeth in her old age has also conceived a son; and this is the sixth month for her who was said to be barren. 37 For nothing will be impossible with God." 38 Then Mary said, "Here am I, the servant of the Lord; let it be with me according to your word." Then the angel departed from her.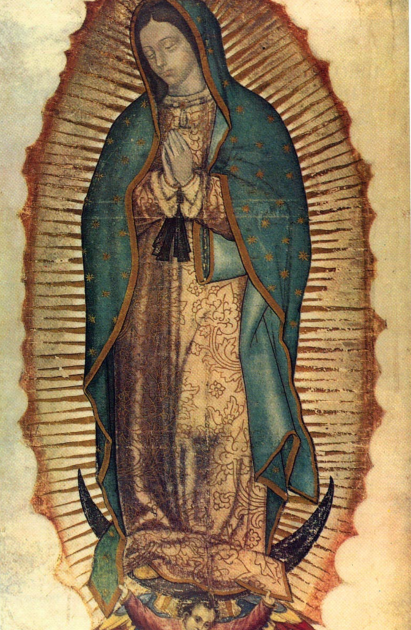 Thirty-nine years after Christopher Columbus made landfall on the island called Guanahani by the indigenous Taino people of the Caribbean, the colonizing conquest by the Spanish people of Europe was in full force on Turtle Island (also known as North America). Among the Nahuatl tribe of the Aztec nation, a story began to spread of a Native man who was visited by a pregnant Native woman who spoke the Nahuatl language. Their meeting occurred on a sacred hill in what would later become known as Mexico City. The woman identified herself as Tonantzin which means "our mother" and she requested that a place of worship be built on the site long revered by the Aztec people. Tonantzin become associated with Mary, the mother of Jesus, and her identification with the Native people assured them of God's blessing and favor in a time of disease, enslavement, and oppression.
In today's reading from the Gospel of Luke, Mary of Nazareth is visited by Gabriel, a messenger from the heavenly realm sent by God. Gabriel brings an announcement that is difficult to grasp. The angelic messenger declares that Mary has been chosen by God to become pregnant with a child who will be known as "Son of the Most High God." Mary is young but she knows where babies come from and respectfully questions Gabriel's reasoning: "How can this be, since I am a virgin?" The only comfort she receives is the encouragement to not be afraid because of God's favor and the assurance that Jesus, her child to be born, is holy.
Mary's response is diplomatic and as filled with as much faith and trust as one could hope to muster in such a situation. She replies: "Here am I, the servant of the Lord; let it be with me according to your word." Her answer recalls other similar responses in the Gospel of Luke such as when Jesus teaches his disciples to pray the Lord's Prayer: "Our Father in heaven, hallowed be your name. Your kingdom come. Your will be done, on earth as in heaven" (Luke 11:2-3). Or when Jesus himself prays in the Garden of Gethsemane the night before he is to be crucified: "Father, if you are willing, remove this cup from me; yet, not my will but yours be done" (Luke 22:42). In all three instances, the faithful response to ordinary, sometimes confusing, and even dreadful circumstances is submission to the will of God.
There is a popular prayer in Twelve Step programs of recovery from addiction known as the Serenity Prayer. Composed by American theologian Reinhold Niebuhr, only a portion of the prayer is usually said. The original prayer in its entirety is:
"God, give me grace to accept with serenity the things that cannot be changed, courage to change the things which should be changed, and the wisdom to distinguish the one from the other. Living one day at a time, enjoying one moment at a time, accepting hardship as a pathway to peace, taking, as Jesus did, this sinful world as it is, not as I would have it, trusting that You will make all things right, if I surrender to Your will, so that I may be reasonably happy in this life, and supremely happy with You forever in the next. Amen."
It is possible to see Mary, as did the Nahuatl people, as the icon of the maternal face of the Father who created and redeemed "people from every nation, from all tribes and peoples and languages" (Revelation 7:9). May the coming celebration of the Incarnation of God in the person of Jesus born of the Virgin Mary bring us joy and peace!