"Abandon All Worry to God"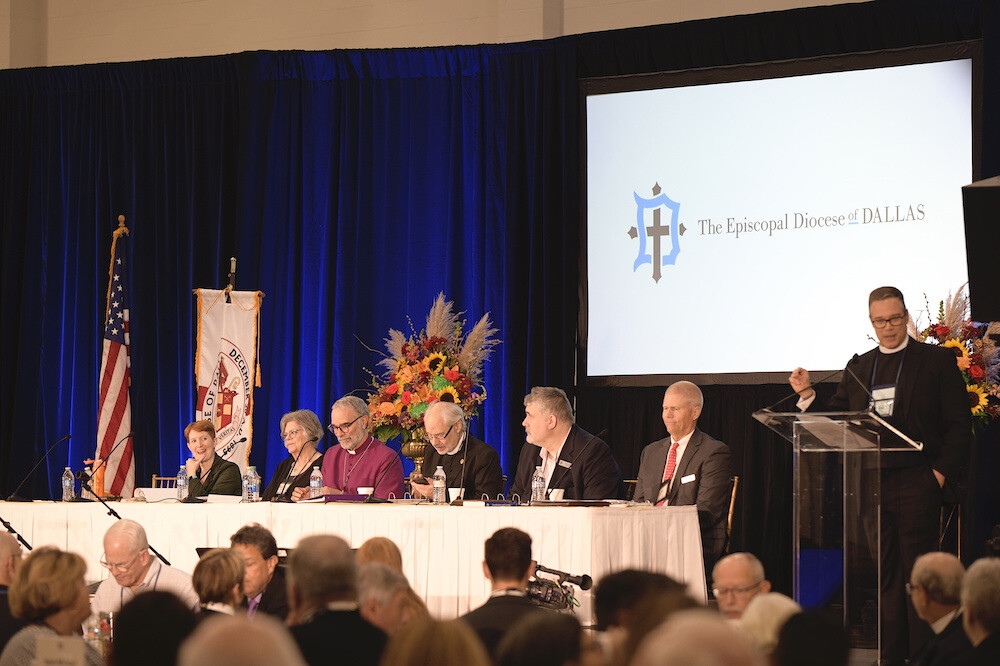 The 127th Diocesan Convention is in the books after an inspirational Leadership Day, a profound worship service, a spiritually moving bishop's address, elections, clergy spouse luncheon, financial report, surprise $25,000 give-away and other convention business conducted November 4-5, at St. Matthew's Cathedral and the Episcopal School of Dallas.
This year's convention focused on the parish, particularly coming out of COVID and the tumultuous times of our day. The Rt. Rev. George Sumner told the crowd of more than 400 people that despite the challenges of our culture, we are to be together in community. "As with everything spiritual, in the face of resistance, of ourselves and others, we are to run toward each other, not away…," he said.
The day before convention, clergy and laity leadership participated in Leadership Day with the Rev. Charlie Holt, the Diocese of Florida, who focused his lecture on the parish. He talked about the importance for churches to offer rich Christian formation programs in small groups as a way to best serve the Church. He noted that this is not always an easy task. "What is the heart of the Lord for his Church?" he asked. "He wants our heart to conform to his heart. That's the Anglican way. That's what we do. We die with Christ, we suffer with him in order to be raised with him. We work with the grain of the wood. I want us to have that at its heart. In order that we might be raised and obtain that resurrected life."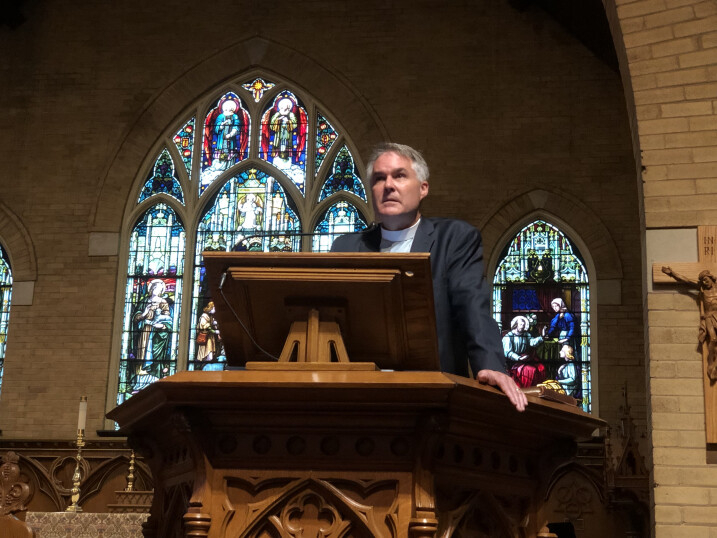 Convention day started with an early morning worship service with a homily by the Most Rev. Ian Ernest, who is the Archbishop of Canterbury's Personal Representative to the Holy See and director of the Anglican Centre in Rome. He delivered a moving sermon that talked about how justice and freedom are important avenues to become a follower of Christ, and that "the poverty of some while others are well-to-do, some are angry while others are satisfied …" is problematic. We cannot be preoccupied with material things if we are going to flourish, grow and progress. Everything belongs to God and Christ expects us to give back to him what belongs to him," Ernest said.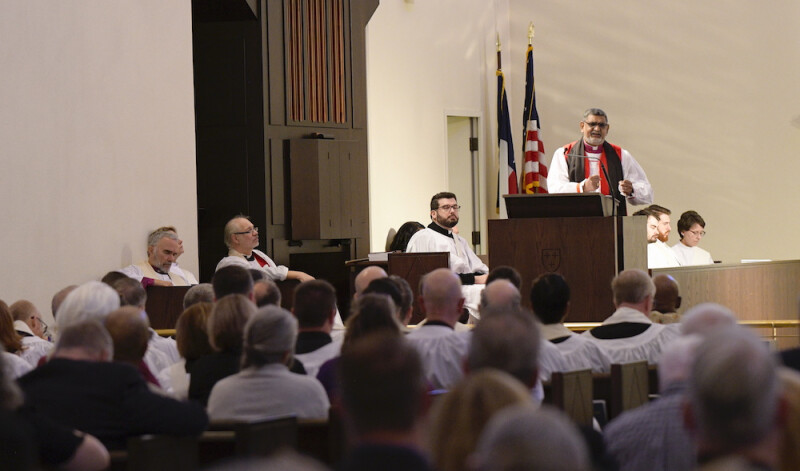 Ernest also preached the beatitudes for All Saints during Sunday worship at St. Augustine's in Dallas. He spent time talking to the congregation about his work for the Anglican Centre in Rome, "which was exciting and encouraging to everyone here," said the Rev. Samuel Adams, vicar of the church.
The convention worship service included a guest appearance by the choir of True Lee Missionary Baptist Church. The diocese has maintained a longtime relationship of shared ministry and friendship with True Lee leadership and congregation members including participating in the ministry of Open Table, Martin Luther King Jr. parade, Champions Camp and more. Their presence at convention worship brought joy to the service and highlighted this important ecumenical relationship and their joint commitment to serving the Lord. The church's beloved pastor, the Rev. Canon Donald Parish Sr. was inducted to the Order of Garrett by Sumner.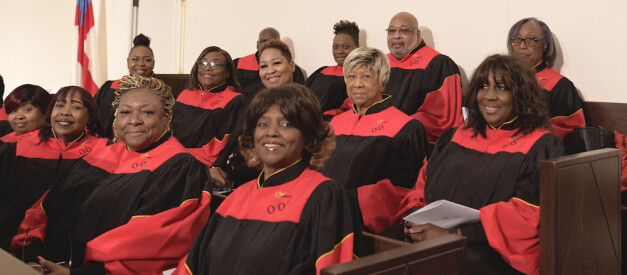 Once convention convened, Justin Benitez, a youth representative from San Marcos in Mount Pleasant welcomed the lay and clergy delegation in English and in Spanish. The following order of business included routine reports and nominations. Cory Floyd, St. James in Texarkana , was newly elected to serve as the role of Chancellor to take effect at the end of convention.
The diocese' five mission stations were recognized, Holy Trinity in Bonham, San Marcos in Mount Pleasant, St. Francis in Winnsboro, St. Justin Martyr in Canton and Grace Community in Dallas. St. Stephen's in Sherman returned to mission status, and Holy Nativity in Plano returned to parish status. Holy Nativity, led by the Rev. Dr. Samira Page, and the congregation was welcomed with a standing ovation.
In other good news, the Episcopal Foundation of Dallas presented a check for $25,000 to St. James on the Lake in Kemp for their commitment to mission. Board Chairwoman, Robbi Rice Dietrich, of Transfiguration, presented the money to the church in a happy surprise.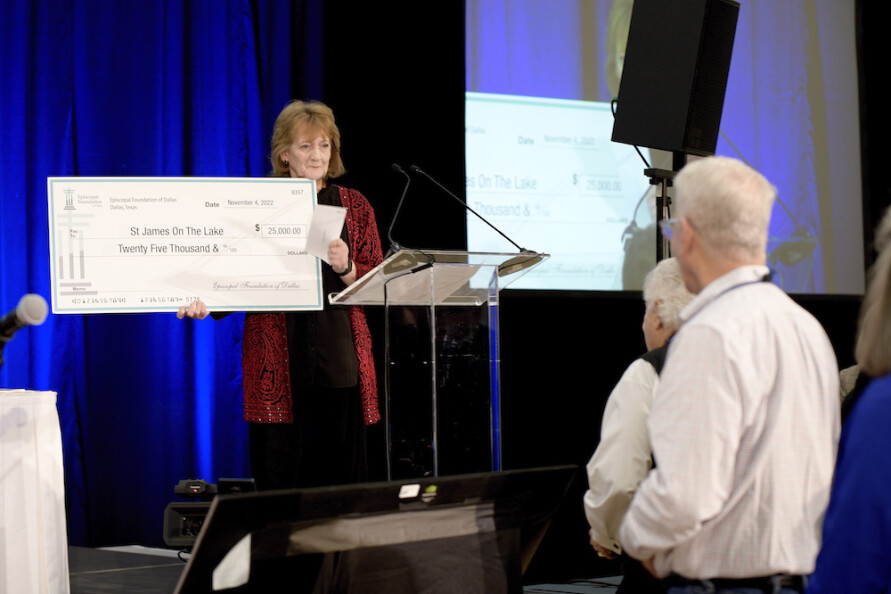 Before breaking for lunch the Rev. Darell Smith, a pastor at Victory Outreach Church in Dallas, led the noon-time prayer. He is also the ecumenical leader for outreach at Our Saviour Episcopal Church which just celebrated a one-year anniversary of its partnerships and outreach programs. This ministry partners with other churches and groups for outreach, a mentoring program, a weekly Bible Study and serving the poor. Smith also asked for donations to provide Thanksgiving food for 100 families, and to serve 300 children Christmas gifts. Donations can be made through Dallas Champions Academy.
During the lunch break, some clergy spouses and guests met for a special luncheon gathering to catch up, enjoy holy conversations and renew friendships. To the delight of the participants, Ernest and his wife, Kamla joined in the festivities.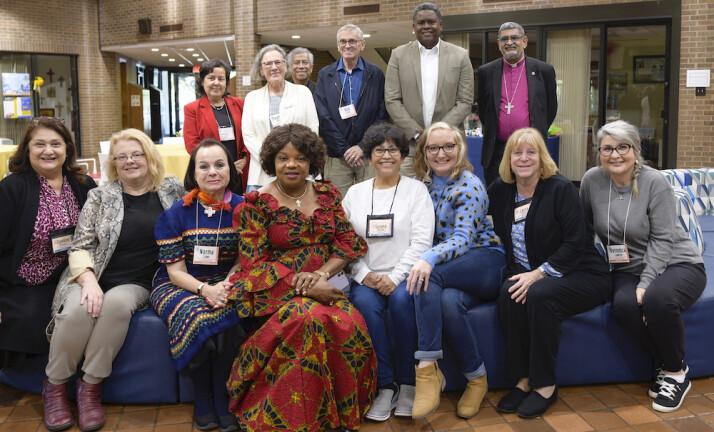 And, of course there, was an election. Here are the results:
Secretary to Convention
Bob Buchanan, Saint Michael and All Angels
Standing Committee
The Rev. Perry Mullins, St. Peter's in McKinney
Jolayne Lacour, St, David's in Denton
Executive Council
The Rev. Miguel Carmona, St. Barnabas/San Barnabe in Garland
The Rev. Oliver Lee, Incarnation
Connie Crist, St. Philip's in Frisco
Beth Hanks, Incarnation
Adele Ichilian, St. Matthew's Cathedral
Rossi Walter, Good Samaritan in Dallas
2024 Convention Delegates
The Rev. Canon Dr. Christopher Brown, Diocese
The Rev. Canon Jerry Morriss, St. James on the Lake in Kemp
The Rev. Dr. Matthew Olver, Nashotah House Theological Seminary
The Rev. Ignacio Gama, Epiphany in Richardson
Connie Crist, St. Philip's in Frisco
Adele Ichilian, St. Matthew's Cathedral
Jolayne Lacour, St. David's of Wales in Denton
Ben Lima, Incarnation, 2024 General Convention
Lee Spence, St. Dunstan's in Mineola
Rebecca Wellborn, St. Paul in Ellis County
2024 Convention Delegates Alternates
The Rev. Paul Nesta, St. David's of Wales in Denton, 2024 General Convention Alternate
The Rev. Chris Steele, St. Christopher's in Dallas, 2024 General Convention Alternate
Seminary of the Southwest
Harriet Cousins, Saint Michael and All Angels
Bishop's Nominations:
Corporation of the Diocese
Al Nix
Audit Committee
Mary Sonom
William Peeler
Tom Graves
The Rev. Bob Corley
Commission on Episcopal Schools
The Rev. Alina Williams
Jennifer Hargrave
Commission on Ministry
James Callaway
Mary Lu French
The Rev. Aquilino Lara
Sandy Mebus
The Very Rev. Neal Michell
The Rev. Daniel Ofoegbu
After lunch, The Kellerman Foundation played a video about their important ministry serving the Batwa in Africa. Several churches in the diocese support this ministry with mission work and funding.
Canon Carrie Headington addressed the convention in a video highlighting the following upcoming diocesan events:
Parish Leadership Day: January 14, at St. John's in Dallas
Mission Day, May 6 with Canon J. John, at St. Nicholas in Flower Mound
Faithlift Women's Brunch with Canon J. John, at The Joule Hotel in Dallas
Sumner addressed convention but first thanked everyone who helped with the event and introduced new diocesan staff, Becky Roach who is missioner of finance, Haley Rossi who is executive assistant to the bishop, and Erica Lasenyik who is director of the Stanton Center and the diocesan Resource Center, and leads event planning.
In his address, Sumner said the parson is to minister to all in the village, as are you. "Nowadays and in pluralistic America, the bounds of your parish, beaten with blessing on Rogation day, encompass other fellow Christians for whom you are to have a tangible care. The hungry, the forgotten, the alien, are your neighbor in the full Gospel sense. The plight and promise of the young where you are needed to be felt and addressed," he said. "Diaconal ministries and social justice ministries are parochial in the best sense too. And solidarity extends to the neighborhood or hamlet nearby where a church plant might happen and the word of God audible and visible might yet need to occur. We have solidarity with those yet to be summoned to our fellowship, and to this task, urgent in our place and time in north Texas I might add, we must return post-COVID in the latter part of this year and into 2024."
Sumner concluded his address with a nod to the hard work of parishes and noting that God is in charge. "We labor on behalf of the Gospel in our place with all that I can contribute- then abandon it all to God. Focus locally with intensity and then abandon it to God who reigns over all the parishes, all the Churches, all the nations," he said. "We worry about what will become of the church in another generation and about the culture in which it is found, and then abandon all that worry to God - in Philippians Paul said, 'do not worry about anything, pray about everything, with thanksgiving for what God has done.'"