Order of Garrett Inductees Honored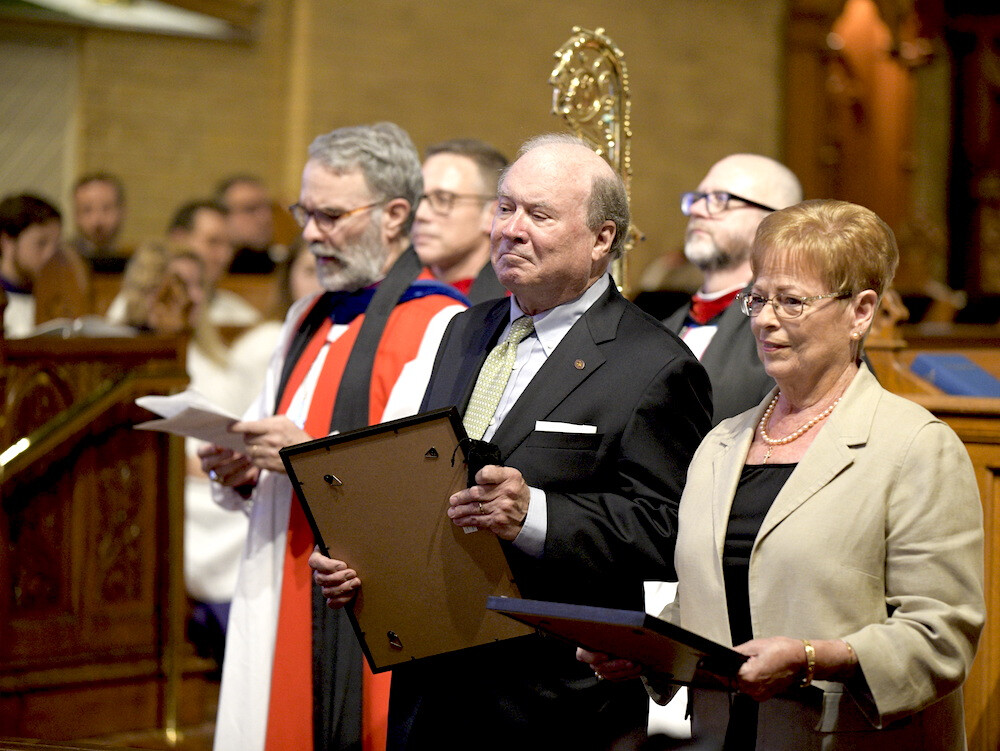 The Rt. Rev. George Sumner inducted seven members to the Order of Garrett. Four priests and three lay leaders were recognized for their outstanding contributions to the diocese.
"In his first letter to the Christians St. Paul reminds us that we are not a conglomeration of individuals, but rather a body, and as organs thereof, we are different, but in need of one another, "Sumner said. "And since we are the body of someone in particular, Jesus Christ, as we appreciate one another we are reminded of aspects of Him, and so of his love toward us. All of this is a gift from God so that we might not lose heart, but might be encouraged to press on toward the upward goal in Christ. It is in this spirit and for this reason we honor these our brothers and sisters."
These are the inductees:
The Rev. William Cavanaugh
Growing up outside of Philadelphia, Cavanaugh first came to Texas as a Curate at St. Mark's, San Antonio. Finding out he liked Texas, he continued to serve there for 29 of his 37 years of active ministry. Serving as Rector of four parishes in three dioceses, he is proud of the fact that with God's help, all four grew under his tenure. During his 14 years at Epiphany in Richardson, he found a joy and mutuality that were the highlight of his ministry, being especially grateful that life and momentum continues at that parish. Cavanaugh also served as mentor to six clergy colleagues and numerous persons seeking ordination. He was elected as a deputy or alternate deputy for four General Conventions and served for many years on the Alumni Board of General Seminary. He volunteered in many diocesan capacities, most significantly on the Standing and Search Committees during the time when Sumner was elected. "Father Bill Cavanaugh- beloved pastor, re-newer of parishes, source of wise counsel at a diocesan and national level, mentor for younger clergy, whose name was synonymous here with credibility….you've been an exemplar of wisdom," Sumner said.
Kay Allison Crews
Crews has been a member of Christ Church in Dallas for the past 15 years where she has served on the altar guild, the vestry, search committees, as youth leader, and treasurer. She has been the parliamentarian to the diocesan conventions for a decade, and has served on the Conduct of Business and Constitution and Canon Committees. Active professionally, she served as President of the Texas State Association of Parliamentarians, and is active with the National Association of Parliamentarians as well, where she was a member of the Educational Resources Committee and has served as convention technologist for each convention since 2009, when she was the first to serve the national organization in that way. Crews served as the secretary and president of the American Institute of Parliamentarians. She teaches parliamentary procedure professionally for the University of Wisconsin Independent Learning department. She is actively associated with parliamentary study units in Dallas, and has conducted parliamentary workshops across the US, and in Canada. "Kay Crews, our lord of freedom is also a lord of order! Loyal parishioner and outstanding parliamentarian in the secular realm, orderer of our common life, maker of space for all in the family to speak, you are an exemplar of helping lay people to have their role in church leadership," Sumner said.
Thomas ("Tom") Graves III
Graves currently serves as president of Church of the Incarnation's Standing Parish Committee on Vocations. He also sits on the Board of Trustees of the Corporation of the Episcopal Diocese of Dallas and the Endowment of the Episcopate. In 2017, after retiring as Treasurer, Graves worked for Bishop George Sumner in the capacity of reviewing funding opportunities for the benefit of programs of the bishop and the diocese. The Bishop named Tom a Lay Canon. Graves' dedicated service to the diocese began as a Convention Delegate in 1997, which continued over numerous conventions, and as a member of the Investment Committee of the Episcopal Foundation of Dallas. Subsequently, Graves served two full terms as a Trustee of the Foundation. He also served on the executive council, finance committee and eventually became treasurer. Additionally, he was elected deputy to two General Conventions; served as a director and trustee of Nashotah House Theological Seminary; director of The Living Church Foundation; and on the boards of the Uganda Christian University Partners and the Cranmer Institute. Tom is a member of the Dallas Wildcat Committee, the Dallas Producers ' Club, and the Dallas Petroleum Club. He also serves as a member of the Executive Committee of the Chancellor's Council of the University of Texas. "Tom Graves, steward of finances on behalf of this diocese, support for the structures of our common life in tumultuous times, lay voice on behalf of our tradition, helper of seminary, encourager to reach higher, loyal friend of bishops, you are an exemplar of stewardship in all its depths and dimensions," Sumner said.
The Rev. Dr. Samira Izadi Page
Page is the founder and Executive Director of Gateway of Grace Ministries. She was born and raised in Iran as a Muslim but eventually fled Iran with her family due to persecution and obtained political asylum in the U.S. where she converted to Christianity and earned her Master of Divinity and doctorate in Missional Church Studies from Southern Methodist University. Page has committed her life to bringing the hope and love of Christ to those whose hope, dignity, and humanity have been taken away by oppressive governments and circumstances. She frequently speaks nationally and locally at conferences, churches and other venues on issues of interfaith relations, Islam and Christianity, and refugee outreach. Page works cross-denominationally with pastors and mission leaders and moves local congregations into deeper and new ways of mission and outreach. "Mother Samira Izadi Page - survivor, disciple of Jesus, friend of refugees, doctor of ministry, Christian entrepreneur, church planter, evangelist… you've been an exemplar of solidarity with those in need," Sumner said.
The Rev. Thomas A. Pantle
Pantle was called in1969 to serve at Holy Nativity Church in Plano, where he led the mission into parish status, and Holy Cross in Paris for a total of about nine years before answering a call to serve in Oregon. After several years there, he returned to the Dallas diocese to serve several parishes over the years including Holy Nativity, Holy Trinity in Bonham, All Saints in Atlanta, St. Martin's in New Boston, and eventually St. Dunstan's in Mineola where he worked for 16 years. While at St. Dunstan's the parish grew significantly and a new parish hall, kitchen, bathrooms and gathering area was planned and built. A small children's chapel was included. Good fortune was celebrated with the raising of a new bell tower. This was soon followed by the design and construction of a new garden area with columbarium niches. Now in recent "retirement" Pantle is serving at St. Philip's in Sulphur Springs. "Father Tom Pantle- builder of congregations in need across this diocese, voice reminding us to look to the cross, evangelist, demonstrating what Eugene Peterson called 'a long obedience in the same direction' you've been an exemplar of patience and faithfulness," Sumner said.
Donald R. Parish, Sr.
In October 1992, Parish accepted the call to become the Pastor at True Lee Missionary Baptist Church in which he currently serves. Under his leadership he has ordained more than seven ministers. He founded H.O.P.E. Restoration, Inc., a non-profit organization in 1996 and an outreach prison ministry for the incarcerated at George Beto Unit. Parish has served as moderator of the Galilee Griggs Memorial District Association of Baptist Churches, interim president of Texas State Missionary Baptist Convention, field supervisor for the Foreign Mission Board, National Baptist Convention and advisory member of Baylor's Diabetes Health and Wellness Institute. Parish also serves or has served in many community service organizations such as Dallas Chamber of Commerce, Oak Cliff Chamber of Commerce, Progressive Voters League, Assistant Scoutmaster Boys Scouts of America, Advisor to the HOPE VI Frazier Redevelopment, Member of the South Dallas Faith Coalition, President of the Board of the South Fair Development Corporation, President of the Board of the Martin Luther King Jr Family Clinic, and Member of the Advisory Board of the Park South YMCA and Baylor Scott & White Ministerial Advisory Board. He has received numerous other awards and recognition. "Pastor Donald Parish Sr, veteran, strong and faithful pastor, mentor to younger ministers, friend to the incarcerated, missionary, leader in your denomination, pillar of ecumenical witness in Dallas, advocate for those in need in the civic realm…you've been an exemplar of oneness in the Spirit and costly discipleship," Sumner said.
Alicia Lee Spence
Lee Spence has served the diocese in numerous capacities including as deputy to Provincial Synod, three-term member-at-large on Provincial Council, Northeast Convocation Chair with voice and vote on Executive Council, two General Conventions, Bishop Nominating Committee, Search Committee for VII Bishop of Dallas, Bishop Sumner's Strategic Planning Committee, and she currently is on the Standing Committee. She is also commissioned into the diocesan Order of Lay Evangelists. Lee has served on team as a church planter in the Diocese of Texas, and is a tireless volunteer in every church she has attended, including at St. Dunstan's in Mineola where she currently worships. Lee has strong Christian values, and feels she can best share her faith by serving our Lord in His Church. "Lee Spence, lay church planter, encouraging leader in parish and diocese, unfailingly positive voice, witness in her secular work, encourager of renewal in episcopal east Texas, you are an exemplar of resilience and creativity in the parish," Sumner said.