Shining the light
Even in an age of uncertainty Christians are shining the light, so much so they have already figured out how to transform social distancing into virtual evangelism. Diocesan church leaders have stepped up with creative ways to minister to parishioners and beyond during this time of new challenges. Virtual worship, Bible studies, coffee hours, youth games, daily office and pub theology have connected Episcopalians with each other, and the love of Christ with people from all corners of the world.
Clergy are most often using the "Facebook Live" livestreaming feature for worship and prayer online. While this allows them to connect with those in their church, parishioners are often sharing the livestream with the click of a button to create Facebook watch parties, with their list of "friends" adding exponentially to the number of people viewing the broadcast. The reach to those not part of the church's roster has been heartwarmingly huge.
The Rev. Deng Pager, St. Philip's Sudanese in Dallas, had no idea how to use Facebook Live and tried it for the first time on Sunday. Many of his parishioners watched using the watch party feature, which allowed each of their friends on Facebook to participate. As a result, St. Philip's had more than 600 worshipers from all over the country, Africa and Australia. "We love Facebook live," Pager said. "It's working great for us."
Resurrection in Plano also had more than 600 participants for Sunday service, said the Rev. Leslie Stewart. Additionally, Stewart has been livestreaming from home the daily office for morning and evening prayer. Because so many new people have started watching, she has been explaining the prayer book and offering additional commentary for those who may not be Episcopalian or even Christian. And the church confirmed or received 11 newcomers recently, so Stewart wants to ensure they become familiar with Episcopal worship.
Ministry leaders at Resurrection are connecting on the videoconferencing platform Zoom so they can stay in touch with parishioners, check on them and address any needs. Vestry meetings, and children's ministry are also finding traction with technology. Stewart has also begun canvasing each parishioner to find out about needs and resources so she can make connections. "We are building a document so we are ready to respond," she said. "We are mapping all of our people, of where everyone lives, so we can help when needed."
Christ Church in Dallas has been using phone conferencing to connect more intimately with each other during the Sunday worship services. The Rev. Fabian Villalobos wanted a more interactive experience, so he assigned readings to parishioners and asked someone to play guitar and sing hymns.
"It was beautiful, DeeAnn Villalobos said. "Different people did the readings, and a couple of other people performed the hymns. We have learned how to deal with this. We were really pleased. It was awesome because it was more intentional. The feedback was great. People said they felt really connected."
The food ministry at St. Francisco de Asis in Dallas has been unable distribute food to 100 families in the church parking lot because there are too many people to lawfully gather. Instead they are using a drive-through offered by Sharing Life Ministries, said the Rev. Debra Vela. "I drove by Tuesday and there were lines of cars, so my families are responding to it. I'm just grateful I had some place to send them."
Vela said the church has an elderly group of parishioners who do not want to join Facebook for virtual worship, so she is creating a conference call to offer morning prayer. While the social distancing has been difficult, Vela said she has seen a silver lining. "I have a lot more time to pray."
The Rev. Perry Mullins, St. Peter's in McKinney, said he was not initially enthused about virtual worship, but he was encouraged by all the participants during Sunday service. "We have this huge opportunity in front of us right now. If we look at this as something we have to overcome and get back to normal than we have completely missed the point," Mullins said. "I've been telling my congregation all Lent that we are in the wilderness. When we are in the wilderness, we come out different than when we went in. I think God is doing something amazing in our church right now."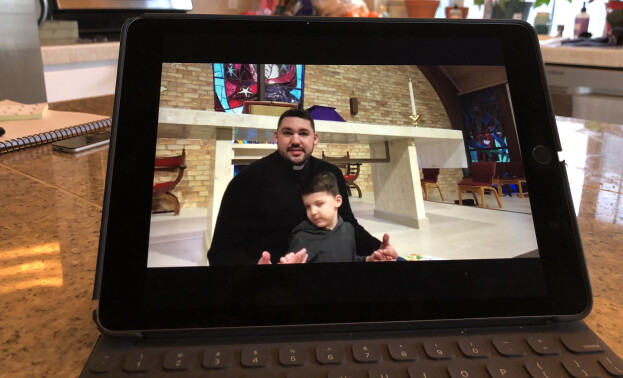 St. Peter's is livestreaming morning prayer, Sunday service, virtual youth gatherings, all to continue worshipping and stay connected as a church. Perry noted that the reach of Facebook broadcasts is wide, so he plans to start running social media advertisements to the church audience - young families in the neighborhood. "There has been something about liturgical churches that has been scary to some folks," he said. "Now they have a way to engage in liturgy that is not so scary. We are dropping ads to those people."
St. Peter's is also partnering with smaller Episcopal churches who are struggling to stream services. "We are open to whatever people need," he said.
The Rev. Emily Hylden, St. Augustine's in Oak Cliff, Dallas has been using Facebook streaming, recorded videos, emails and Instagram to connect with her church members and beyond. "We've been broadcasting a Facebook live video of different prayer services in the prayer book to use," she said. "I've also stepped up Instagram by posting a bedtime collect with an image of our stained-glass windows." The church is also streaming Sunday worship.
The social media videos reached an unchurched man in his 60s, who lived nearby and reached out to Hylden telling her he was anxious about the world, and when it is deemed safe, plans to check out St. Augustine's in person. Hylden delivered a Book of Common Prayer to him and another person who has visited the church a few times, and check out the church's yoga program. "Some of the popularity of yoga and spirituality has opened secular people's imagination to finding peace in a greater power," Hylden said. "We have an app for that! The Book of Common Prayer!"
Larger churches have been busy dialing up all their resources to ensure church life continues in the digital world. After attracting 6,100 viewers (and growing) Incarnation in Dallas decided to beef up the online offerings. "There is an obvious need for hope from the Church right now," said Courtney Barrow, communications director. The church plans to provide live-streamed contemporary and traditional service, post digital bulletins so folks can follow along, and stream adult Sunday school. Children and student ministries will be recorded and offered in video format with printed materials. Small groups will have access to video conferencing. The church is also making phone calls to parishioners to find out their needs and resources so they can continue to minister to those who are at the most risk.
Saint Michael and All Angels is operating a low-tech personal campaign by calling every confirmed member to see how they are and connecting them with church resources, said Communications Director Steve Haal. The church has been livestreaming Sunday service and compline and podcasting a Lenten series. The church will soon offer virtual formation with seven different weekly streams. Additionally, the parish sends out emails from the rector and vice rector, and other updates to keep congregants apprised and encouraged.
Overall churches are working hard to keep contact. All the efforts to learn live-streaming and video conferencing tools are important during this time of change and uncertainty, several priests noted.
The best thing to do for everyone is to stay in touch, Stewart said. "Right now, people are anxious. They need to see their leaders calm, praying and know that we have a plan."