Tent Revival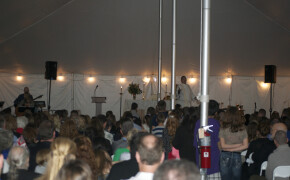 Rain and mud did not deter more than 300 believers who filled every seat under a white tent outside St. Andrew's in McKinney for a joyful celebration that included the 10th anniversary of the church and a sermon by popular evangelist, the Rev. Canon J. John.
John, who is an Anglican from England, is well known for his poignant and sometimes hilarious viral videos including one explaining his occupation to a woman he was sitting next to on a plane.
"I said the group I work for is a global enterprise and we have outlets in every country of the world, we have hospitals, hospices, we work in social justice, marriage, we have feeding programs, – we basically look after people from birth to death and we deal in the area of behavioral alteration," John explained.
The woman said, 'Wow, where do you work?' and he replied, "I work for The Church, have you heard of it?"
John has preached the gospel in 69 countries and in more than 100 universities, he has written books about evangelism and for seekers. "He is one of the most creative Christian communicators living today," said Carrie Boren Headington, evangelist for the Episcopal Diocese of Dallas. "His sense of humor, combined with a winsome proclamation of the gospel makes our faith come alive."
During his sermon at St. Andrew's, John told the crowd of more than 300, "Christianity is for broken people and we are all broken. Through Christ we get forgiveness from the past and hope for the future."
John used a metaphor of letting Jesus drive our car and to avoid being a backseat driver. "Jesus needs to be the first in finance, interests, relationships, schedule and troubles," he said. "The message of Christ is an invitation. What have you done with your invitation? Have you accepted? Is Jesus in the driver's seat?"
The Rev. Donald Perschall, of St. Luke's in Denison said he was excited about the 10th anniversary celebration and enjoyed the sermon by John. "My hope is this is the first of many similar occasions in the diocese where we have sound Biblical preaching, teaching and proclamation of the word of God like we heard tonight."
Headington said John has been her mentor for many years and she admires his gift of bringing non-believers to Christ. "I can think of no one greater to proclaim the gospel, then J. John," Headington said. "His enthusiasm for Jesus is contagious."
Everyone needs to involve themselves in evangelism, Headington said. It's important for the Episcopal Church to find creative ways to reach their communities for Christ, she said. "His passion is to see every church member equipped in how to share their faith. The church exists to serve its non-members. We need more of this kind of outreach like we saw at St. Andrew's in McKinney."
John also praised the Rev. Mike Michie who planted the church ten years ago and has now grown it to more than 300 in average Sunday attendance. "Father Mike is an exceptional leader who by the grace of God has accomplished remarkable growth in the last ten years," John said. "The next decade is full of huge potential for them and the church will multiply. It was a privilege to preach at the 10th anniversary."
Michie said when he planted the church they first met at the YMCA where the congregation had to set up an altar, chairs, the sound system and children's ministry for each service. Over the next few years the church grew from 80 to 180 in average Sunday attendance and by 2012 moved into their current church building.
"We have a lot of work still to do. We have more buildings to build," Michie said. The blessed problem we have is that we filled our building the first year we opened. We need to make room for new people, expand the education building for more classroom space, build a nave and eventually a 400-seat sanctuary."
Currently, St. Andrew's expanded the parking lot, offered a new children's class in the foyer, and are adding a third Sunday service to handle the growth. "God has really blessed us," Michie said.
The 10th anniversary Tent Revival was a great way to celebrate St. Andrew's success, Michie said. "J. John was so much fun. It was a tender moment for us to celebrate and offer people the chance to say yes to the Lord -- some for the first time. I loved it when he said, 'Go as far as you can see and then see how far you can go.' That's where God has us a church."