The Rev. George Luck: 1933-2020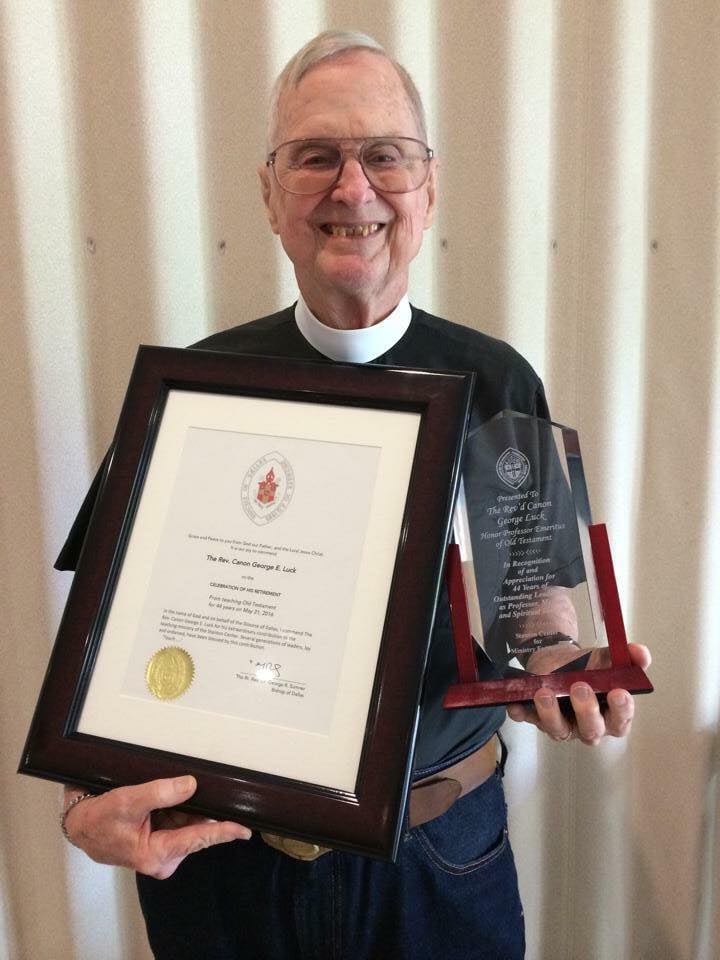 The Rev. George Luck, longtime priest in the diocese, gifted teacher and beloved spiritual director to many died, July 23, after a long illness. He was 87.
He leaves behind a legacy of extraordinary service, and an expansive, bereaved community of clergy and laity who loved and adored him. His 61 years in priesthood included serving at Our Merciful Savior in Kaufman, Holy Trinity Church in Forney, St. Alban's Church in Arlington, St. William Laud Church in Pittsburg, St. John's Church in Dallas, St. Christopher's Church in Fort Worth, Holy Trinity Church in Heath, and lastly at St. Matthew's Cathedral. He was made an honorary canon in 1997 by retired Bishop James Stanton and recently made an honorary canon of St. Matthew's Cathedral by Bishop George Sumner. Luck grew up in Fort Worth and received a history degree at the University of North Texas, and earned an M.Div. from the Philadelphia Divinity School. He was ordained a deacon and priest in Dallas in 1958. He taught Old Testament and Spiritual Theology at what is now the Stanton Center for Ministry Formation for over forty years.
In 1964 he married Jane Amantha Marti. They raised three children, the Very Rev. George Thomas Luck, David Michael Luck and the Rev. Mary Louise Luck Stanley. They also grieved the deaths of two infants, Mary Katherine and Diane Louise. Jane luck died from diabetes related illness in 1983. In 1987 he married the Rev. Diana Nelson Fricke, and had a loving relationship with her children, John, Mark and Steven Fricke as well as their spouses and children. Luck and his wife, the Rev. Diana Luck were longtime staples at St. Matthew's Cathedral where the impact of their ministry was felt by many.
Luck's death leaves behind a large void in the diocese, said the Rev. Matthew Frick. "I just love him to pieces. He always had sage, wise advice. I even have hanging on my mirror a note that says, 'have you prayed about it?' That was always his reminder to me. He said that's what I need to ask myself when I get stressed about something," Frick said. "His cancer had come back and we talked not long after Covid started, we both didn't have a problem being stuck at home with our books and we talked about how this wasn't so bad for us. He wasn't sure whether he was going to be able to do any spiritual direction because his health was failing. I had the opportunity to tell him how much he meant to me, that I loved him and that was a special moment."
The Rev. David Houk said Luck will always be remembered fondly at St. John's in Dallas, where he served on a "dream team" of clergy and staff. "He always had an encouraging word for me after a sermon he always inquired how things were going at St. John's," the Rev. David Houk said. "He was always charitable, even in times of tension in the diocese when charity was in short supply. I will always be grateful for him."
Luck was known as a priest's priest. He served as spiritual director to many clergy over the years. His impact on all those he touched is massive and immeasurable. "George was friend, Scripture teacher, counselor, pastor to so many clergy," Sumner said. "He reminds of the true nature of spiritual authority which he exemplified."
The Rev. Rebecca Tankersley said Luck's absence from diocesan life has created a hole for many. "I have known Father Luck for over twenty years, during which time he has been my priest, my spiritual director, and my mentor," she said. "He taught me how to be a Christian, how to be an evangelist, how to discern God's call in my life, and how to be a priest. He will be deeply, deeply missed."
The Rev. Perry Mullins called Luck a saint whose impact on the world was immeasurable. "Those of us ordained in his shadow have benefitted from his example of love, and have, I pray, taken on some of the charisms of his ministry. He pointed so many of us to Christ, and his ministry lives on in the church. Thanks be to God!"