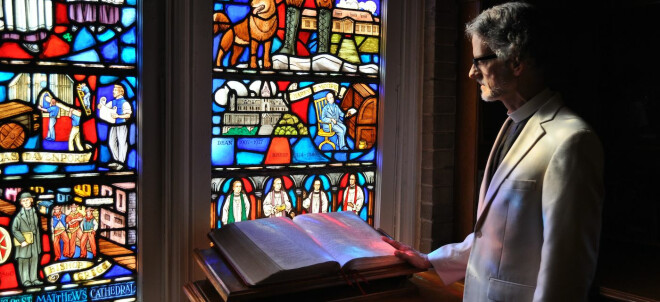 The command comes from Isaiah 58, recently read at Morning Prayer. Through the prophet, the Lord is contrasting true faith and false. He says: if you really want to be serious about your faith, then practice "the fast that I [the Lord] have chosen," namely, "loose the bands of wickedness," "let the oppressed go free," "break every yoke," "deal thy bread to the hungry," "bring the poor that are cast out to thy house." The clincher, the final image of a true religious fast, is this: "when thou seest the naked, that thou cover him; and that thou hide not thyself from thine own flesh."
In one sense, all very familiar: faith without works is dead, so pay attention to the poor, the oppressed, the hungry.
In another sense, all very simplistic: some yokes are not oppressive but right judgment, brought upon people for good purpose. The prisoner who is guilty has the opportunity to face his sin; however messy it is, in the normal course of things God does use worldly government to advance the human good.
And so, all too easy to put it out of mind.
---
At the coffee shop, he sits at a corner table, laptop opened, hour after hour after hour. He's always there.
"Do you know anything about that guy?" a friend asked me. No, I said, do you? "I asked the clerks once; they said he's usually quiet, but on occasion gets out of hand." The mind turns to a supposition of mental illness, a need to stay on medication. "At least he's warm," I said.
---
There he was, at his corner table. I was sitting outside, on the other side of the glass, focusing on my usual tasks. In my peripheral vision there was another person with him, a woman. I half-thought, how nice, someone's talking to him. But I kept at my task and didn't look up.
Until I was ready to go. Then as I gathered my things I saw two youngish people, a woman and a man, sitting near him. Talking with him. They were there with a patiently attentive posture, looking at him, saying I know not what—they were inside, and I was on the other side of the glass.
It was time for me to go. The cock was crowing.
---
Out & About. This Sunday, February 12, I'll be speaking at Church of the Holy Cross, 4052 Herschel Ave., Dallas. I'll be talking at 9:30 about Losing Susan, and then preaching at the 10:30 mass.
The following Sunday, I'm to preach at the 10 a.m. service in McKinney, at St. Andrew's new Westridge campus: 2301 Eden Dr., McKinney.
There will be a three-week class on Losing Susan at Incarnation, starting Monday, February 27, at 6 p.m. Each week we'll take up one part of the book: I'll offer some theological reflections on that part of the story, and then we'll open it up for discussion. Incarnation is at 3966 McKinney Ave., Dallas.