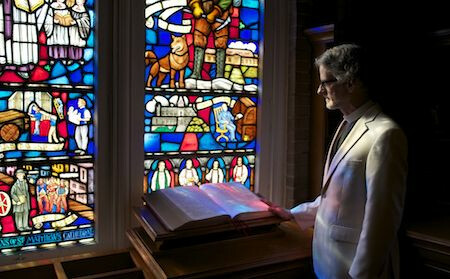 (Non-trigger warning: the following post makes no reference to the election.)

Two recent comments have me thinking about beauty. First, from a young adult: a complaint about being told that she ought to like something "because it is beautiful." She asks who decides if something is beautiful, and she wants to push back against the claim that she ought to like something that she doesn't see as beautiful. Second, from a famous philosopher: a claim that arguments can be made for something to be beautiful. The beautiful is not the useful, and in fact might not be useful. But how it fits, how (say) the color scheme of a room goes together, this sort of thing (he was saying) can be explained, taught, and learned.

Can beauty be taught?

A small bit of an answer: It pleases me to find an interesting pattern underneath a song. I'm (what did Bishop Sumner say at convention?) "long in the tooth"; I'm old enough to have aural memories of Petula Clark and hits like "Downtown" and "Don't Sleep in the Subway, Darling." Both of those songs have complicated rhythms which overlay a simple 4/4 time. The important words never rest on a downbeat until you get to the climax of the song. That's what makes the songs work, and it delights me to uncover the structure that supports their beauty. So I would be able to explain to someone how they work—why they are beautiful—but, of course, the beauty is not in the explanation. It's in the experience.

True story: I rode DART to DFW a couple of months ago. For the short walk from the end of the trainline to the terminal, they have a gently curving sidewalk, partially shaded, with music playing. What did I hear? "Don't Sleep on the Subway, Darling."

It's these little things that make me happy.

---

In Losing Susan, I say that none of us would ever have gone after Jesus if we hadn't found him to be in some way beautiful. The beautiful catches our eye; it is attractive. So I write: "[Jesus] was of course beautiful as a baby, and beautiful as a young man; but he was also strangely beautiful when he was bloodied and abused and did not strike back. There was beauty when he talked with crazy people; beauty when he touched dirty and sick people; beauty even in his rare angers. None of us has seen Jesus in the flesh, and yet this beauty of his is in our grasp. And once we know his beauty, there's no way we could ever forget him."

I suppose there is no way of saying in advance what will be beautiful. But once the beautiful catches us, there is no way for us to deny that it really is beautiful. I can't, in any event, deny that Jesus has caught my attention. And while no one would have thought a cross could be beautiful, the truth is that, to our surprise, it is.

---

Out & about. Sunday, November 13, I will be preaching at the traditional services at Church of the Incarnation (7:30, 9, and 11:15 a.m.), 3966 McKinney, Dallas. My topic is Daniel chapter 6. . . . My sermon at the All Souls' Day requiem can be seen here:https://vimeo.com/190291398.

My essay "Let the Liturgy Be" is in the November 13 issue of The Living Church. I try to understand the liturgy in terms of the church's mission, which I try to ground in the missions of the being of God.