Camino 5: The World on Your Back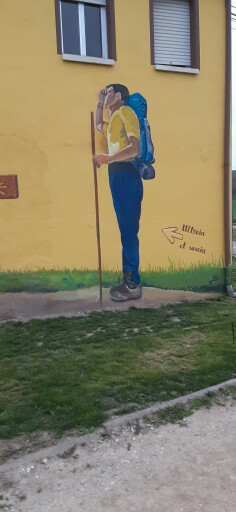 Some weeks ago a wiry guy declaimed while at table, "Show me what's in your pack and I'll tell you what you fear."
He had been living, as I recall, in a tent beside a lake, alone, for a year. (It may have been years.) Life is cut down to size when you live like that. The pack he was carrying was smaller than mine and I'm sure it weighed less.
Mine weighs about 20 pounds, which embarrasses me—I would like it to be 15. Nonetheless, the stuff in it seems mostly essential, although it has turned out that I am carrying a couple of things I don't need—like that inflatable pillow. Yet it weighs only 2 or 3 ounces. "Nonetheless you are carrying it," he replied, cutting me no slack. Two ounces here, two there, and soon you have a pound. "Are you afraid the next albergue bed won't have a pillow for you?"
Each Camino day begins with the reassembling of the pack. My pack has my life in it, and I carry my life every day: a sleeping bag, three additional pairs of socks (the most important item of clothing), two shirts, sandals, back-up orthotics, little toothbrush and little toothpaste, a charger for my phone. The hardest sacrifice was physical books. I have the Bible, the Prayer Book, and the Brothers Karamazov with me on my phone. I brought no computer, only a cheap, plastic, four-ounce, constricted keyboard that I use for writing these blogs (with blue teeth it speaks to my phone).
I did not need to come to Spain to learn that I carry around too much stuff. But the Camino tends to concretize the uncomfortable truths one already knows. All those books at home, all those packed closets—all that stuff! Then one sees (painfully) that it is not just physical stuff that one lugs about. There are the old fights, old spiritual rebellions, the deeply etched patterns of sin! In some sense that wiry guy is right: these are the things I fear being without. How indeed could I live without all that dead spiritual weight that I carry around?
The Camino says, as it were, that indeed we can learn to pack more lightly, to ask God (in the old sense of the word) to "learn" us his ways.