On the Camino: April Fools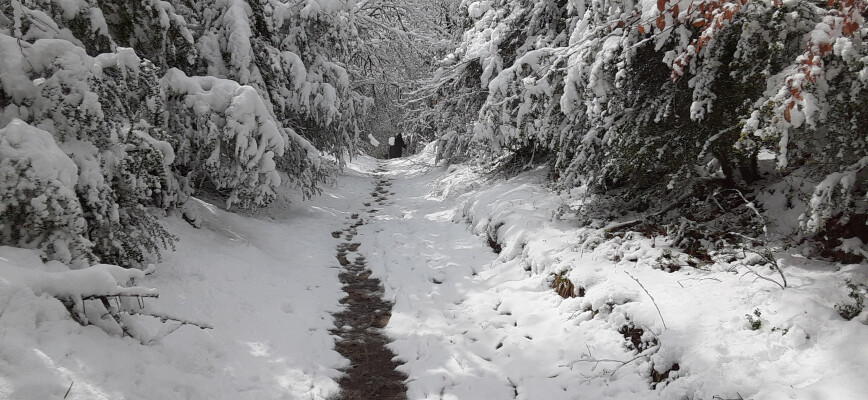 A plane flight, a train ride, a local bus, and finally a bus that connected the two places once a day, and I was there: Roncesvalles, Spain, at an alberque (pilgrim hostel, this one dating to the Middle Ages) with I guess another hundred or so fellow pilgrims on the Way of Saint James. It was cold and rainy. By supper it was snowing. By morning there had been sufficient snow, and the temperature had stayed below freezing long enough, that there were a few inches of the heavy white stuff everywhere.
It was Friday, April 1, and you know what I thought God was saying.
It does snow in the mountains, of course. But how ironic, and how unusual even to the locals, to have snow at this time of year. It snowed on and off all day. The world was black and white. My eyeglasses, which have transitional lenses, were dark even though the sun did not shine. I walked alone, then in company, then alone. Up and down hill, through villages and countryside, past horse farms and children playing, under branches that dropped their loads on our heads, trying to avoid (since the temperature was close to freezing) the rivulets of water making puddles and mud pits along the way: we walked and talked.
The first or second or third question was always: Why are you walking the Camino?
There was E. from Italy. Her son walked the Camino in 2015. Although I guessed what she would answer, I asked how he is now. She said he died in 2020, of cancer, in his 20s. So she was walking where he had walked, walking in some sense with him.
There was B. from Germany. She had been in an airplane crash in the late '90s. Her husband was killed, she went though years of recovery. Now married with a teenaged son, she was walking to sort things out.
There was H. from Germany. Her partner of many years had announced, just in February, that she was leaving her for someone else. She was walking in tears, in grief.
There was S. from Germany. He had just finished a master's degree in theology. We enjoyed a couple of days walking together. He has a new job awaiting him after the Camino, but also has things to sort out with God.
And then there was V. from Texas. He always says he's from Texas, rather than the U.S. or calling himself a "norte americano," but one hospitalier (the friendly man responsible for the church-related albergue in Estella) said he thought the U.S. was a great country, because it understands the importance of being a nation rather than separate parts. V. may start saying he's from the U.S., lest he give encouragement to separatism. Why is he walking? He gives different answers: because his wife died close to ten years ago, because he is wondering what God wants from him in the rest of his life, because he wants to learn to trust God even when he does not know where he will spend the night. Mostly, though, it is about friendship. He is learning both to make friends and to turn them over to God. And to do that, he thinks, is at once the simplest and yet the hardest thing in life—harder, in fact, than dealing with sore shoulders and feet blisters.
On the other hand, he thinks that to get a glass of Spanish wine for about two dollars makes everything easier.