As many of you know, I have returned to the diocese of Egypt and the Horn of Africa in order to discern if God is calling me to return to do ministry here for a longer time, after which I plan to make a short trip back to Ethiopia to do some teaching at St. Frumentius (where I was pre-Covid) with another missionary. Upon arrival, I was delighted to be invited by Archbishop Samy to join him and other clergy from the diocese for the remainder of their retreat at the St. Pishoy Monastery.
This was a significant gift for a couple of reasons. First, this allowed me to meet many of my Egyptian colleagues straight away. Secondly, getting to gather at the monastery itself is the ecumenical fruit of Mouneer Anisand's (the previous Anglican Archbishop of Alexandria and the Horn of Africa) friendship with the previous Coptic Pope, Shenouda III.
The Pishoy Seminary is important to the Coptic Orthodox Church for being the monastery where the Coptic Pope (currently Tawadros II, Patriarch of the See of St. Mark and Pope of Alexandria) is chosen; it is also where the Papal library (the largest modern coptic library in the world) and monastic palace are located. While I was there I saw the relics of St. Pishoy in the Cathedral, which had recently been moved from its previous location in the monastery church — the first time St. Pishoy's body had "moved" in 1,000 years! I only later learned it was there and so failed to see the famous "Well of the Martyrs" there.
Another surprise awaited me at the monastery that day, too, and the most exciting one of all. I sat down at the U-shaped conference table alongside my confriars and looking across the table I realized that I recognized someone: Fr. Jeremiah, a priest and friend, "my brother," from Gambella! I was so happy to see him again after being away from Gambella for so long.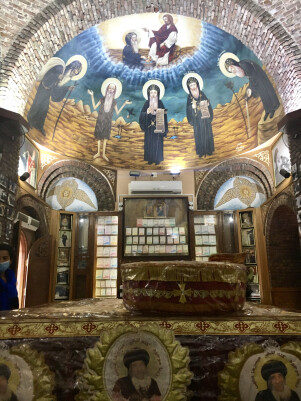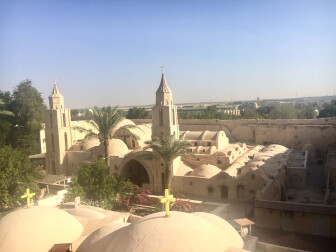 We returned to Cairo on Thursday evening. Worship services are typically held on Friday and Sunday in Egypt, because Friday marks the weekend here in recognition of the Muslim day set for congregational prayer. I showed up on Friday expecting to be introduced at the English Service at All Saints Cathedral. When I arrived I met a visiting priest from Canada, named Claude. We waited and no one showed up to introduce us; so, looking around and seeing that all eyes were on us, we began the service ourselves, with Claude preaching and me celebrating an unfamiliar liturgy (turns out it was from the 2000 English Prayerbook). The Spirit showed up as he does, to be with us and to make us One with Christ. It was a good service.
The following day I visited St. John the Baptist Church in Ma'adi, where I will likely be placed for, at least, the next couple of months should the vestry wish for me to stay and help. Baptisms and confirmations for the Sudanese congregation was the occasion for the visit. In my experience so far, Sudanese churches are full of life, joy, and a readiness to hear the Gospel. I can see that evangelism in America is much harder — and may God be with all of you who till the hard ground there now! I know some will read this and think how exciting and challenging it is to go to a far-off place to be a missionary, but I sometimes I wonder if what I am doing is actually the easier thing to do. As for the laity, maybe it is in some ways harder to remain where one is and work to deny oneself the marketplace of Sunday options that has became the church. If I may offer a word of exhortation, I think being part of your local parish rather than driving a long-distance for the charms of a more "successful" church is a significant way one is now "sent" in the American church and to have a vocation today. Stay in the neighborhood, belong, pray. For those of you who are not "called" far away, perhaps you are being called nearer. Be ridden of the comfortable quarters afforded by the "bigger" and "better" churches and be sent amidst the parish nearest you. In other words, ask first who your neighbors are and if you are with them on Sunday. If not, consider saving some gas money and going to them instead to see what God is doing there.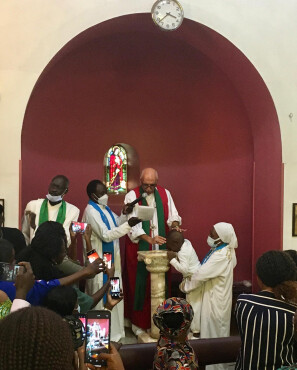 I was invited to attend the dedication of the Patriarchal Center for Studies and Dialogue at St. Georgios in Cairo with Bishop Samy and a few other clergy. This is one example of many attempts at interfaith/intercultural study and dialogue in Egypt, this one led by Patriarch Theodore II, the Eastern Orthodox Patriarch of Alexandria. The next day I attended an event dedicated to a similar attempt at dialogue between Christians and Muslims, Egyptian Family House's 10th anniversary celebration, again at the invitation of Bishop Samy and along with some of my new ministerial peers, this project being the "brain child" of Al-Azhar's Grand Imam Ahmed El-Tayyeb and Pope Tawadros II. It was a long day, but good exposure to a well-meaning aspect of the country's religious landscape.
The fact that Christians are not united, often violently so, raises the question for me as to why Muslims think Christians have anything offer interfaith dialog at all. Muslims and Christians are trying to find ways to live peaceably together under the one roof that is Egypt. Lives stand in the balance between Egypt's religious failures and achievements. As for Christendom, especially in the West, Christian disunity is seen to be primarily a matter of ideas and not lives, which shows that what is disordered in us includes our understanding of the Gospel itself. It has become for us a matter of competing ideas. We have forsaken the call to join our bodies together in our worship and in our lives, into that One Body of Jesus Christ.
The patriarchates, dioceses, synods and so on have a geographical connotation, e.g. the bishop of this place. The diocese and the parish obviously have geographical locales but are divided so only as a practical aspect of its pastoral ordering. Bishops and priests, however their vicariate is situated, share in the same apostolic call to give their lives to the one Church of God. "The Church" does not refer to my particular geographical diocese in which I am registered and the bishop to whom I am merrily or sufferingly bound. But it is exactly because geography came to represent ideological and ethnic identity later that the councils gave rise to schism along the theological meanings attributed to geographical providences. This began to fracture the Near Eastern Church by the fifth-century and, in part, is what made it possible for Islam to supplant Christianity in North Africa.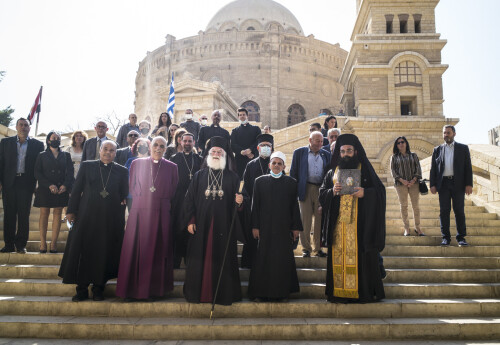 By the time of the 15th century, the Churches rhetoric about governance became increasingly naturalized (secularized), something the Reformation initially attempted to correct but ultimately failed to do. That many in the Episcopal Church, indeed, in the Western church in general understand the order of its providences and their own callings increasingly in terms of "democracy" is not a sign of an advancing "religious" enlightenment but the normalizing of the church's schismatic impulse.[1] It is partially for this reason that the question has been put to me in geographic terms: "Trent, what has Dallas got to do with Africa?" As I've said before, I am not going to "them" but "us." Anyhow….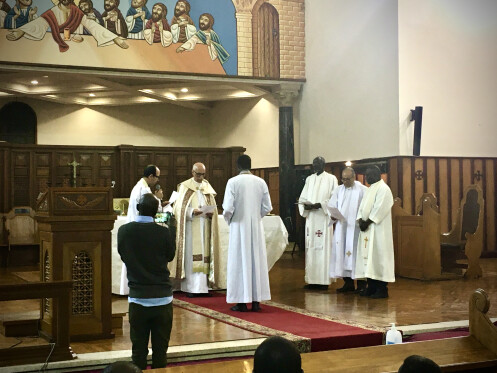 Yesterday I was invited to attend a dinner at Bishop Samy's home to welcome the Archbishop of Sudan, Ezekiel Kondo. Today I began working on my sermon for Friday and tonight I attended a a service committing Fr. Jeremiah to the Archdeaconate of Gambella. I am so grateful to have been able to meet so many inspiring Christians and to begin making new friends. It is wonderful to get to be in Africa again, with our brothers and sisters in Christ.
Prayer Requests:
The peace in Ethiopia, Sudan, and Gambella
Jeremiah's ministry in Gambella and for its new diocesan leadership team.
My continuing discernment for the future of my vocation.
[1] These reflections derive from Ephraim Radner's A Brutal Unity.